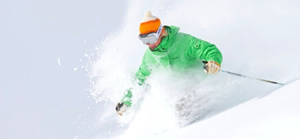 Six-time World Cup slalom winner Kristina Koznick just freerides the powder at Vail and Beaver Creek these days. An Edwards resident, she is building a home at Red Sky Ranch.
Courtesy Jack Affleck/Vail Resorts
www.koznick.com
Blog Tools
Comments
PermaLink
Six-time World Cup winner Koznick building home at Red Sky, will serve as Vail ski ambassador
By David O. Williams
July 24, 2008 — Some inspiring sports stories crossed my radar Wednesday, on a day I was tracking down yet more political shenanigans in the various races heating up for the fall, and it made me wish government could be more like sports, with clear winners and losers. But then it also occurred to me there are a lot of politics in sports.

For instance, I've always heard over the years that one of the most political places on the planet is the U.S. Ski Team. The squad's understandable no-fraternization policy led six-time World Cup winner Kristina Koznick, a Minnesotan who was arguably one of the best American slalom racers ever, to bust out on her own long before Bode Miller did it last season.

Koz stood on a whopping 20 World Cup podiums in an amazing 16-year run in racing, and I'll never forget the raw emotions she displayed in Sestriere, Italy, when she skied in the 2006 Olympic slalom despite completely tearing her ACL in training less than three weeks earlier.

The Winter Olympics (1998, 2002 and '06) were mostly a disappointment for Koznick, but her perseverance in Italy and gracious albeit somewhat tearful humor afterward stuck with me, especially after I found out this past season I've been skiing without an ACL for years. Her grit in '06 gives me hope for next season.

And now I found out that Koznick, who married that coach she broke away with years ago, Dan Stripp, is building a home at Red Sky Ranch near Wolcott and will be serving as a Vail ski ambassador.

So welcome to the community, Koz. Your accomplishments will always be remembered and appreciated in the Vail Valley. Check out her site at www.koznick.com if you want to book a ski day with one of the nation's best alpine racers ever.

Speaking of best ever, Rod Smith, the greatest receiver in Denver Bronco history, called it quits for good on Wednesday. He missed all of last season with a hip injury that the Steadman-Hawkins Clinic's Marc Philippon tried to fix. But apparently it was too far gone to get Smith back on the field for one last shot at NFL glory.

That's OK. The undrafted free agent from a Division II school had plenty of glory in 12 amazing years in the blue and orange. He and John Elway torched the Atlanta Falcons for their second Super Bowl win, and Smith was a huge part of the season that led up to the first win over the Packers as well, even if Terrell Davis stole the show in the championship game itself.

Smith helped provide massive relief for an entire state and region of football fans who suffered through embarrassing defeat after defeat in Super Bowls throughout the '80s, and he did it in a way that always exuded class – none of the Brandon Marshall, Carmelo Anthony crap we get from our sports stars these days.

Finally, Rock-tober is a distance memory after a horrible first half of the season, but the Colorado Rockies are slowly starting to emerge from the six-foot hole most of us had buried them in a month ago. Because the rest of the division is so bad, the Rocks are actually only six games out of first.

If they are within five by the July 31 trade deadline, they have to make a trade for another quality starting pitcher. They have tons of bats and need to package a couple of them for a run. Probably can't get rid of Todd Helton and his heavy salary but increasingly light bat, but they are two and three deep at other positions.

Make a run, Rocks. Make a trade. And make us believe again.


Comment on "Six-time World Cup winner Koznick building home at Red Sky, will serve as Vail ski ambassador" using the form below