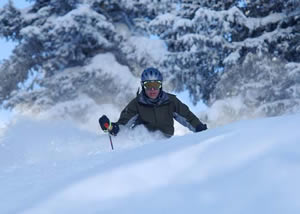 The blogger in Earl's Bowl at Vail, contemplating his own contribution to the DNC. Are the Dems the party of the ski world, opposing global warming and the notion we can drill our way to energy independence? Some say that notion is suicide for the ski industry.
By Dan Davis
trekkerphoto.com
Blog Tools
Comments
PermaLink
The politics of skiing: Vail Resorts gives to Democratic National Convention, snubs GOP
By David O. Williams
July 25, 2008 — With a hefty $500,000 donation to the Democratic National Convention (DNC), scheduled for Aug. 25-28, the state's largest ski-resort operator, Vail Resorts, is looking more to marketing value than obtaining goodwill from the next presidential administration, according to a corporate spokeswoman.

"As the largest player in the second-largest industry in the state, our contribution was made in the interest of promoting tourism in Colorado to a worldwide audience," said Vail Resorts' Kelly Ladyga. "We hope that our contribution will help showcase all that the state has to offer, particularly our magnificent mountain resorts."

Vail Resorts -- which owns and operates the Beaver Creek, Breckenridge, Keystone and Vail ski areas in Colorado and Heavenly ski area in California -- is one of 112 sponsors that had contributed $29 million to the DNC by the end of the second-quarter filing period, according to the Federal Election Commission.

The state's ski and tourism industry contributions $2.6 billion a year to the state's economy, according to the industry trade group Colorado Ski Country USA, which also contributed to the DNC. That's second only to the state's agriculture sector in terms of overall revenues.

Vail Resorts did not donate to the Republican National Convention in Minneapolis-St. Paul Sept. 1-4. "We have no operations in Minneapolis and therefore did not make any contribution there," Ladyga said.

Of course, if you count customers, many of whom do come from the Midwest in general and Minneapolis in particular (see direct flights to Eagle in the winter), the ski company does have operations in Minnesota. Plus, some of our best ski racers (Lindsey Vonn and Kristina Koznick) hail from the land of a thousand lakes.

My take is that VR knows the Dems are the party of the ski world, opposing global warming and the notion we can drill our way to energy independence. They won't say it, but I will. Eschewing alternatives in favor of more and more drilling and bigger and bigger automobiles is suicide for the ski industry.



Comment on "The politics of skiing: Vail Resorts gives to Democratic National Convention, snubs GOP" using the form below