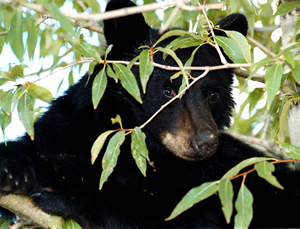 This small black bear, up a tree and looking scared, wasn't much of a threat to humanity (most bears aren't), but ones that are desensitized to humans because of careless trash practices can become a problem.
By Dan Davis
trekkerphoto.com
Blog Tools
Comments
PermaLink
The bear essentials for surviving unexpected wildlife encounters
By David O. Williams
August 11, 2008 — My wife called me a week ago Friday and told me she was out hiking above Minturn in the middle of the afternoon with my two oldest sons, went around a bend and came face to face with about a 300-pound black bear less than five feet away.

The bear had no interest in her, or the boys, and headed the other way fast. Kristin froze for a second then turned, gathered up Nick and Max and headed the opposite direction at a fast walk.

She knew enough not to run, something that can trigger the predator-prey instinct and prompt an attack, but she had no idea what she would have done had the beefy bruin come after her – a remote possibility to be sure, but a possibility nonetheless. Sows will get testy if you stumble on them with cubs.

Luckily, no cubs involved in this encounter, except our two cubs, and they seemed to view it as great adventure. Seeing a bear in the wild is no doubt a thrill. We had a 400-pounder pass right through our yard last summer, and I've seen a few other black bears in the Colorado backcountry and dozens of grizzlies in Alaska's Denali National Park years ago.

But stumbling on one on an afternoon hike can be a shocker. Kristin's heart is still pounding double-time more than a week later. But what should she have done had the bear had come after her?

I just wrote a story about wildlife encounters on golf courses in which a regional wildlife officer gave me the complete rundown on the proper response to encountering large mammals in Colorado, so I had all the answer at my fingertips.

If the bear had come after her or the boys, Kristin thought they should have curled up in balls on the ground and played dead. What do you think, did she have it right?

Absolutely not, the wildlife officer told me. Play dead and you'll be dead, he said.

With bears and mountain lions, the only two predators in the state large enough to take down a human, the best thing to do is make yourself appear larger by waving your arms, screaming and trying to frighten off the carnivore. And if they attack, fight back with all you've got. Never run, because they'll come after you, and you can't win that footrace.

There's one exception to the running rule, and that's a moose – an herbivore, but a big surly beasty all the same. Increasingly common in Colorado, moose will get quite testy, and the best approach is to get away from one quickly and put a large object (tree, boulder, truck) between you and it.

So there's your primer on proper wildlife-encounter responses. Try to remember it all next time you're four feet from a snarling mass of muscle, fur and teeth. Enjoy the woods, folks.


1 Comment on "The bear essentials for surviving unexpected wildlife encounters"