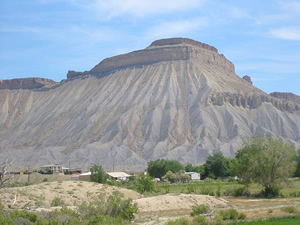 The cliffs above I-70 on the way into Grand Junction tell a tale of high-desert desolation, but the area is actually becoming an increasingly dynamic center for energy development, recreation and even retirement communities.
Courtesy of flickr.com
www.flickr.com
Blog Tools
Comments
PermaLink
Western Colorado at the epicenter of the national energy debate
Can oil and gas development coexist with the tourism and ski industries?
By David O. Williams
September 9, 2008 — It's roughly 260 miles between Denver and Grand Junction, with the western end of Eagle County (Eagle and Gypsum) just about halfway in-between on Interstate 70 – the critical east-west road that connects the Front Range to the Western Slope.

That's a hell of a long ways (consider that it's only 211 miles from London to Paris, although with considerably more water en route), but sometimes it seems like Denver and GJ are on different planets.

I spent last weekend west of GJ near the small town of Loma at a state park called Highline Lake. We camped with the kids, drank a lot of beer (us, not the kids) and rented Jet Skis. It was your basic Sarah Palin kind of weekend. All we were lacking was a couple of semi-automatics.

But every time I drive west through Garfield and Mesa counties, whether that's our destination or we're heading on out to canyon country in Utah, I'm struck by the number of oil and gas wells dotting otherwise fairly scenic hillsides covered in pinon pines.

Granted, the first 100 miles of the drive up from Denver (the distance from the state capital to Vail) are by far the most scenic. But that scenery has been hugely impacted by the mountain pine beetle infestation, which some scientists say can be attributed to global climate change, although some credit also has to go to decades of fire suppression.

But the next 160 miles through Glenwood Canyon and on through Rifle along the base of the Grand Mesa have their own charm. It's an area of rugged and desolate beauty that's under intense pressure from the drill-here-drill-now crowd.

I'll leave the drop-in-the-bucket arguments against mortgaging our natural heritage for short-term and miniscule energy gains for another blog. But for those of us who love the mountains and hate what global climate change may mean for the sport of skiing, what's happening on the Western Slope is of great concern.

Meanwhile, the oil and gas industry, backed by the state's Republican Party, is playing hardball to turn the far Western Slope into something we may not recognize in the next few years. This is all a long-winded lead-in to a compendium of interesting recent political notes from Grand Junction and Aspen, where the energy-policy debate is showing no signs of cooling off.

Fireworks punctuated a meeting of the Western Slope advocacy group Club 20 in Grand Junction over the weekend, with Democratic U.S. Senate candidate Mark Udall being booed by some audience members who were clearly more supportive of his Republican opponent, Bob Schaffer, according to the Grand Junction Free Press.

Udall and Schaffer were on hand Saturday for a debate before the membership of a group some critics say has become increasingly conservative and supportive of the oil and gas industry. Club 20 also made headlines for withdrawing its support for Amendment 52 on the statewide November ballot.

That ballot question asks voters to approve using oil and gas severance taxes for road and bridge improvements. According to the Associated Press, Club 20 backed off because its board felt the funds would be focused too narrowly on Interstate 70 and would also take money away from other areas such as water-improvement projects.

Also speaking to Club 20 members in Grand Junction, Democratic Sen. Ken Salazar said developing a diverse array of energy sources will make the country energy-independent in the near future, but he argued there still needs to be much more study on the amount of energy and water oil-shale production will take before heading too far down that road.

"I do believe we will move forward with what will be the moon shot on energy independence after the next president is elected," Salazar said, according to the Free Press. Udall echoed Salazar's feeling on oil-shale production later in the day, but Schaffer argued the Democrats are stalling on that front.

State Republicans so far seem to be conceding the House District 55 race, in which virtually no money is being spent by the GOP or independent conservative groups to unseat incumbent Democratic Rep. Bernie Buescher, according to the Grand Junction Daily Sentinel.

Buescher, whom RealVail.com profiled in July, is considered by many political observers to be the likely replacement for term-limited Rep. Andrew Romanoff as Speaker of the House — though he would likely face opposition from one or more of his Front Range Democratic colleagues.

Buescher's Republican opponent, Laura Bradford of Colbran, who owns a medical supply company, may be the recipient of some late support from 527 groups if she proves to be a viable candidate on her own first, according to an analyst quoted in the Daily Sentinel article. But another observer said the GOP may just be focusing on more winnable races elsewhere in the state.

"It may be that they've decided they can't get at Buescher because he's the odds-on favorite to be the speaker (of the House)," John Straayer, a political science professor at Colorado State University, told the Daily Sentinel.

House District 55 encompasses the northeast section of Mesa County, including Grand Junction.

In other Western Slope energy news involving Udall and another Salazar, the Pitkin County (Aspen) commissioners have joined Rep. John Salazar (D-Colo.) in a border war of words with Republican Sen. Orrin Hatch of Utah, who on several occasions recently has disparaged Aspen as a nest of anti-oil elitists snuggling up to their like-minded congressman Mark Udall (D-Colo.).

Salazar took Hatch to task in late July for criticizing on the Senate floor Udall's call for a one-year moratorium on oil-shale leasing. Salazar got involved because his 3rd Congressional District actually represents Aspen, not Udall's 2nd District.

"I guess there are not too many poor in Aspen," Hatch said. "I love Aspen and the people there, but it's no secret that it is home to plenty of wealthy elites and environmentalists. I have no problem with Rep. Udall choosing the elite anti-oil crowd over the poor. But let's be honest about the choices we're making around here."

Late last month, according to The Aspen Daily News, the Pitkin County commissioners joined in the fray with a letter to Hatch telling him Aspen residents are "proud to be called 'environmentalists'" and that "anyone who watches the politics of western Colorado understands that we are much too independent to subscribe to a belief in 'elitism.'"

Udall, meanwhile, clearly has issues with misrepresentations about his area of representation. Speaking at a water conference in Vail late last month, the Eldorado Springs congressman responded to repeated accusations from his Senate race opponent, Republican Bob Schaffer, that he's a Boulder liberal (apparently even worse than being an Aspen elitist) by pointing out that Boulder is just one city in his wide-ranging 2nd District.

"For those of you untutored in Colorado who like to confuse representing this district with serving on the Boulder City Council, I'd like to point out that this district is bounded on the east by the communities of Thornton, Northglenn and Westminster — Thornton is actually the largest city in the 2nd Congressional District and Westminster ranks second — and on the west by the Eagle County line, so Eldorado Springs is somewhere in the middle," Udall said.


Comment on "Western Colorado at the epicenter of the national energy debate" using the form below