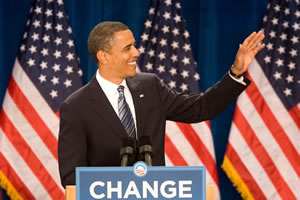 Sen. Barack Obama addresses a packed house at the Colorado School of Mines in Golden Tuesday.
By Toni Axelrod
www.axelphoto.com
Blog Tools
Comments
PermaLink
Obama, Palin show Colorado some love, but ripple effects of economic meltdown reach Vail
By David O. Williams
September 18, 2008 — It's good to be noticed. And to apparently matter for once.

As evidenced by the relentless crisscrossing of the state being done by various presidential and vice presidential candidates this week, Colorado counts on Nov. 4. Our measly single-digit number of electoral votes in a close election qualifies us for "battleground" status.

Sen. Barack Obama was in Pueblo, Grand Junction and Golden this week. Alaska Gov. Sarah Palin also did Golden, meaning Alaska was completely ungoverned for at least a 24-hour period. The muskoxen must have run amok.

RealVail has photographic evidence of Obama's Golden visit, as provided by the talented Toni Axelrod, a former Vail Trail photog and freelancer about town. Check out her Web site at www.axelphoto.com. And thanks, Toni.

But while we're squarely in the national political crosshairs, the economic meltdown on Wall Street will likely have more immediate ripple effects, and I'm not just talking about all the former Lehman Brothers and Merrill Lynch workers cancelling their Vail vacations in droves.

The Vail Town Council reversed itself Tuesday and pulled the plug on a proposed $18 million transportation center on the North Day Lot along the South Frontage Road -- where Vail Resorts is building an employee housing project – primarily citing the ongoing economic crisis.

VR owns the land and had reluctantly agreed to share the costs of the transportation center on the site even though company officials felt a better location was its proposed $1 billion Ever Vail retail and residential development in west Lionshead, which is supposed to have a new gondola.

In fact, the ski company even offered to give the town part of the North Day Lot parcel for a municipal employee-housing project, but the council decided a transit center was the way to go. They were apparently determined to collect some federal grant money for the project.

On Tuesday the town took my earlier advise and did a 180, deciding the economy is too dicey to spend the money on a nearly $20 million bus stop, and it turns out they may be able to use the money from the feds anyway, either on a transit center at Ever Vail or the Lionshead Parking Structure redevelopment.

Thing is, both of those projects look to be years out given the rapidly deteriorating economic situation. Even if Vail Resorts and Open/Hillwood can find the money to do Ever Vail and Lionshead respectively, where are the buyers for all those high-end condos coming from? Obviously not from our number-one domestic destination market, New York.

Euros, Russians and still-flush folks from a variety of Asian and Middle-Eastern markets will no doubt jump into the void, taking advantage of the limp dollar to grab a piece of Rocky Mountain paradise. But will that be enough to sustain the $2.96 billion in real estate sales Eagle County did last year? Doubtful.

The next concern is the number of people who will be in a traveling mood this winter, looking to plop down 10 grand or so for the family to spend a week or two in Vail. Only time and the depth of the economic malaise will tell, but the depth of the snowfall could cure all.

And maybe some of these sudden Colorado fans from Washington, or at least inside-the-Beltway wannabes, can bring their skis and take a few runs in-between stump speeches once the snow starts flying in a month or so. We'll see.


1 Comment on "Obama, Palin show Colorado some love, but ripple effects of economic meltdown reach Vail "