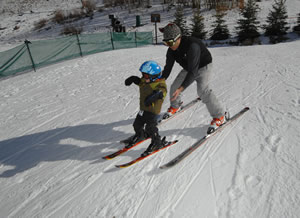 Vail Valley residents might wind up doing more ski instructing of their own this coming season when it comes to their kids.
By Dan Davis
trekkerphoto.com
Blog Tools
Comments
PermaLink
One of the best local bennies going bites the dust
By David O. Williams
September 21, 2008 — I've always joked that children's ski school in the Vail Valley is cheaper than daycare. Not anymore.

I friend with a kid called me a week or so ago to say he'd heard the local's ski-school deal for children was going away this season. His conspiracy theory was an employee rate would be offered in a bid to get more locals to work part-time on the hill this season in the wake of the $579 Epic Pass.

I scoffed at the notion, but it turns out he was right. My friend was giddy last spring because he bought the unlimited Epic Pass and wouldn't have to work part-time on the hill this season to get a pass. Now he'll likely have to get his old job back to afford lessons for his kid.

That was one of the knocks on the super-cheap unlimited six-mountain Epic Pass when it was announced last spring – that it would further dry up an already dusty labor pool (see numerous stories on this site about the H2B crisis). This is one of Vail Resorts' answers.

A kid's one-day lesson that last season cost around $50 for locals will cost nearly triple that at $139 this season, and six-packs or form-your-own teams (with other local families) will double to nearly $100 a day. Devo and Bevo discipline-specific lessons on Saturdays will remain the same, which is good news for my two oldest kids.

This used to be one of the best local bennies going, but it was probably doomed by an Eagle County population pushing 50,000 and the ski company's at first questionable decision to sell the Epic Pass and put more pressure on the workforce and our limited public parking. Given the recent economic turmoil, that decision is looking more and more brilliant from a bottom-line standpoint.

Business might be better for all of us than it would have been without the Epic Pass this season, but it will be interesting to see how many locals actually take the bait and work for VR this season to get cheaper kid's ski school and how many decide it just isn't worth it anymore.


1 Comment on "One of the best local bennies going bites the dust"