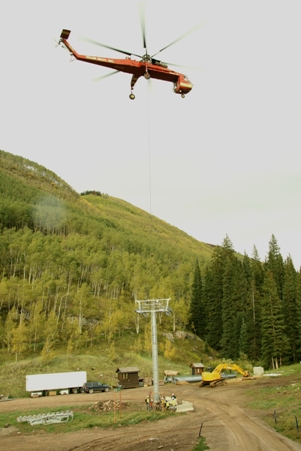 Lift crews at Vail Mountain complete the installation of 29 lift towers with assistance from a Sky Crane helicopter Sept. 17.
Courtesy of Vail Resorts
www.vail.snow.com
Blog Tools
Comments
PermaLink
Helis replace an aging legend: Chair 10 now a distant memory
By David O. Williams
September 21, 2007 — You have to understand that growing up in Denver my home mountain for years was Mary Jane, a hill adjacent to Winter Park, Colo., known for its endless zipper lines of Mini Cooper-sized moguls.


So when I moved to Vail in the early 90s I was skeptical of its ability to provide much in the way of bump skiing, which at the time enjoyed a popularity that has waned significantly with the advent of wider shaped skis.


Olympic medalists Nelson Carmichael and Donna Weinbrecht were household names in skiing circles back then and a burgeoning pro mogul tour was all the rage in Vail. My boss and the publisher of the Vail Daily at the time, Jim Pavelich, even dabbled a bit on the mogul circuit.


So to properly do a story on the local mogul skiing scene I hooked up with some guys from Vail who were hot and heavy on the pro mogul tour at the time and they decided to school the newbie from Denver, who thought nothing could top Outhouse at Mary Jane, on something called PPL.


If youíre not familiar, that stands for Prima, Pronto, Log Chute, a series of three bump runs on the front side of Vail Mountain that will crush the cartilage of even the most hardcore bumpster.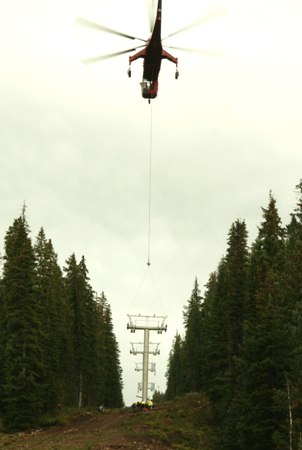 Helicopter crews work to place the last of 29 lift towers as part of the replacement of Chairs 10 and 14 with new high-speed quads for the coming ski season.

Dave Hilb and members of his mogul posse, whose names escape me now, watched in amusement as I tried to keep up on PPL in my 80s holdover stretch pants and white rear-entry Raichle ski boots.


When we got to the bottom and started heading up the old Chair 10, something like a 17-minute ride at the time, I grinned stupidly and admitted PPL stacked up with the best of Mary Jane, but was that all Vail had? Mary Jane was loaded with lines, from Drunken Frenchman to Riflesite Notch.


Hilb just smiled on the long ride up and said we were headed to Highline. On the ensuing run I sustained my first and so far (knock on wood) only knee injury of my skiing life, hyper-extending it in a deep trough trying to chase professional mogul skiers. Young and uninsured, my knee eventually recovered but my psyche was forever scarred.


Highline, to this day, remains one of my favorite runs on Vail Mountain. On a powder day, after macking up freshies in the Back Bowls, Highline is the ideal place to poach a few soft turns on the way back to Vail Village. The trees on skierís left are always fresh and fluffy, especially now that most people are on fat skis and want no part of the bumps.


So when helicopter crews put in the lift towers for the new Chair 10 on Monday (as well as a Chair 14, giving Vail a remarkable 16 high-speed quads) I was a little nostalgic, not to mention curious as to how a high-speed will impact Vailís unheralded mogul Mecca.


My gut is there wonít be any real impact in terms of skier traffic, other than to get people up to Two Elk Lodge faster and more seamlessly. Thereís a school of thought that high speeds ruin an area by upping the skier traffic (see the proposed replacement of Chair 5 in Sun Down Bowl).


But with half the mountainís total of 32 lifts now high-speed quads, the reality is that itís spreading skiers around the mountain more and more each year. Blue Sky Basin has relieved pressure on the existing Back Bowls and more high-speeds means better skier flow mountain-wide.


My RealVail partner Tom Boyd and I started a tongue-in-cheek campaign to ďSave Chair 10Ē a few years back when we were both still at the Vail Trail, even going so far as to have T-shirts printed up. Neither of us were particularly serious about it, but now that the old, slow double is gone, it will be interesting to see how Highline skis.


And whether Iíd have any better luck hanging with Hilb and the boys these days.


Comment on "Helis replace an aging legend: Chair 10 now a distant memory" using the form below