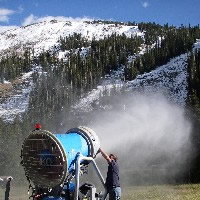 Loveland ski area near the Continental Divide has been testing its snowguns and should begin actually making some faux snow in the next couple of days.
Courtesy of the Loveland
http://www.skiloveland.com/
Blog Tools
Comments
PermaLink
Summer about to super collide with winter in ski country as Loveland cranks up snowmaking guns
By David O. Williams
September 23, 2008 — Want a sign besides this being the fourth day of fall and temps dipping near freezing at night that ski season is right around the corner? Well, other than the fact that the Large Hadron Collider in Switzerland is shutting down for ski season (or at least winter energy-saving maintenance after a divine malfunction), look no farther than Loveland and Arapahoe Basin ski areas, which are set to begin snowmaking in the next couple of days.

Unbelievable, I know, given that temps in Denver will be pushing 90 degrees Thursday. Some would say it's even silly, but it's true. Snow guns will soon start churning faux white stuff at elevations about 10,000 at the two Colorado ski areas that annually race to be the first resorts in the state, if not nation, to open for the season.

Last season Loveland starting blasting artificial snow on Sept. 23, but A-Basin won the race to be first to open, cranking up the lifts on Oct. 10 – the resort's earliest opening ever. But then it didn't snow again (or at least it seemed that way) until after Thanksgiving. So the white ribbon of death (WRD), as we like to call the single swatch of faux snow surrounded by muddy mountainsides, was looking pretty ragged toward the end of November.

Of course, then it started snowing and seemingly didn't stop again until June, so let's hope we see a repeat of that. Speaking of repeats, I recently bought a new mountain bike and have been reliving the Beginner Class glory days of my short-lived racing career when I first moved to Vail in the early 90s.

Tuesday I spun up Davos Trail, home of the Davos Dash race, and enjoyed spectacular views of Mount of the Holy Cross, Notch Mountain, and Vail and Beaver Creek ski areas. The bike is definitely going to be the savior of my surgically repaired left knee that ended my ski season in January. By going back to my biking future, I think I'm on the road to full recovery – as long as I avoid doing any super-colliding of my own, like with a tree or something (my downhill bike-handling skills aren't what they once were).

The fall foliage should peak in the next week or so after being delayed somewhat by recent rains, so get out there and get into shape for the coming season. Winter is literally just days away.


Comment on "Summer about to super collide with winter in ski country as Loveland cranks up snowmaking guns" using the form below