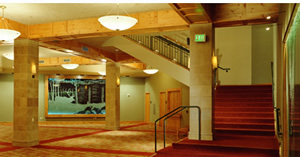 The Vilar Performing Arts Center in Beaver Creek was paid for in large part by philanthropist Alberto Vilar, whose fraud trial started in New York Monday.
Courtesy of the Vail Valley Foundation
www.vvf.org
Blog Tools
Comments
PermaLink
Vilar fraud trial hits home in the Vail Valley as Congress debates $700 billion bailout
Beaver Creek's recent history with deposed CEOs underscores current financial crisis
By David O. Williams
September 24, 2008 — Now-infamous philanthropist and investor Alberto Vilar's fraud trial got under way in New York this week, even as Congress hotly debated a $700 billion bailout of the nation's crumbling financial infrastructure and lawmakers balked at golden parachutes for bungling CEOs.

Amerindo Investment Advisers rocketed him onto the Forbes 400 richest list during the height of the tech-stock boom, and he then became an international celebrity as a patron of the arts, giving lavishly to cultural causes from Colorado to London.

But after his arrest in 2005 on allegations that he bilked clients of millions -- including Lily Cates, the mother of actress Phoebe Cates -- Vilar's name came off of venues from Vail to New York, where the Metropolitan Opera stippred it from its grand tier.

In Vail, when Vilar came up $1.5 million short in his $3.5 million contribution to a remodel of the Gerald R. Ford Amphitheater, Vail Valley Foundation officials took his name of the 1,200-seat concert venue. But in nearby Beaver Creek, where Vilar once owned a 16,000-square-foot mansion, a 500-seat concert hall is still called the Vilar Performing Arts Center.

Vilar's arrest was the culmination of a slew of scandals involving deposed CEOs during the early part of this decade. Skiing Magazine once ran a tongue-in-cheek feature called the "Indicted CEO Home Tour," an ode to now-convicted modern-day robber barons with homes in Beaver Creek – a list that included Tyco's Dennis Kozlowski, Adelphia's John and Timothy Rigas and WorldCom's Bernie Ebbers.

Vilar's is the latest cautionary tale in Colorado and America's fascination with the fabulously wealthy, and it comes at a time when the world is waiting to see if we'll back it up with our collective wallets.



Comment on "Vilar fraud trial hits home in the Vail Valley as Congress debates $700 billion bailout" using the form below