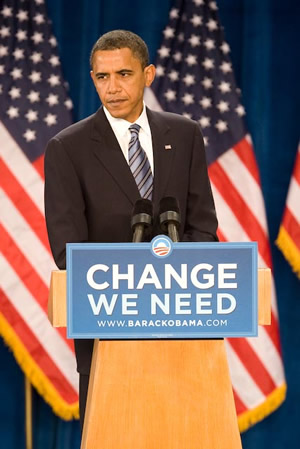 Yeah, but does he ski? Can any of the presidential or VP candidates claim to be mountain men ... or women?
By Toni Axelrod
www.axelphoto.com
Blog Tools
Comments
PermaLink
The presidential politics of skiing: do any of the candidates rip?
By David O. Williams
September 29, 2008 — This is the time of the year when on the one hand I want the days to last forever – filled as they are with falling leaves, perfect temperatures and spectacular colors – but I also can't wait for the silly season of political bickering to give way to the serious stuff of ski season.

I've been accused of always somehow managing to work skiing references into any story, whether it's a political piece, an unrelated sport, business stories, or sometimes even crime and punishment. Maybe it's just a clear indication of where my mind is most of the time, especially this time of year.

But it's particularly true for me this fall. I lost most of last ski season to a knee injury and forfeited a big part of my identity in the process. Getting out in the woods with the people I love, whether it's on skis, bikes or just on foot is a critical component of maintaining my sanity.

And even though all of that slowly returned to me over the summer, to the point where I'm expecting to be back to full form on the slopes this ski season, the silly political season has been worse than ever, to the point where I'm left wondering if this system really is the best we can do. Whatever, it's the best we've got.

Still, even as the issues ads cycle endlessly on TV, burning through millions of dollars to spread various stretchers and outright fabrications about candidates on both sides of the aisle, I can't help but ponder the only real question that matters this time of year: Which politicians ski?

Seriously, if you ski, you may be for me. There are obviously bigger issues in life, but a love of the sport to me indicates a love of the mountains and maybe even a love of the environment and desire to preserve and perhaps enhance it for your kids and your kids' kids.

I know ski towns by their nature are intrusions into that environment, with obscenely large homes built in precarious ecosystems, often by executives of companies with very spotty environmental records. But I still think people who ski tend to care a little more about the outdoors.

So last week I fired off e-mails to both the McCain and Obama camps to see if anyone on either ticket is a snow skier. Might have had something to do with the financial bailout negotiations, but oddly neither side got back to me.

Sarah Palin helped procure some federal funds for a rail project to the Alaskan ski town of Girdwood (home of Alyeska ski area), but I have no idea if she skis. Her husband's a snowmobile racer, which I don't have a huge problem with (I've actually used them to ski).

But my guess is that as the former chair of the Alaska Oil and Gas Conservation Commission she does not share my view that greenhouse gas emissions are at least partly responsible for global climate change, which is a bad thing for skiing.

I just have no idea on the other three candidates, but somehow I can't see any of them being big mountain lovers. If you know differently, send us an e-mail by clicking on our "Contact Us" button, or just post a comment below. Inquiring alpine minds want to know.


2 Comments on "The presidential politics of skiing: do any of the candidates rip?"