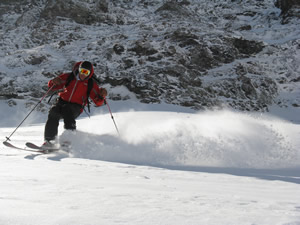 Ski patroller Doug Krause kicks up a rooster tail of fresh snow after a foot fell over the weekend at Silverton Mountain in the San Juan Mountains of Southwest Colorado.
Silverton Mountain/Jeremy Yanko
www.silvertonmountain.com
Blog Tools
Comments
PermaLink
Silverton sees skiing; A-Basin opens Wednesday; and Georgia's always on McCain's mind
By David O. Williams
October 13, 2008 — I think it was former Fed chairman Alan Greenspan who warned against irrational exuberance in the stock market, which generally has not been a problem the last couple of weeks (Monday's 900-plus-point upward surge in the DOW notwithstanding).

But he could have just as easily been talking about October expectations in ski country, when most snow riders want so much more than Mother Nature can possibly provide.

It's hard, however, not to get pretty amped this time of year, what with Arapahoe Basin officially launching the 2008-09 ski season by opening Wednesday and Silverton Mountain down in the San Juans sending us this picture of a ski patroller in action Monday.

The Southwest Colorado one-lift wonder of ski area, which boasts some of the highest, steepest and snowiest terrain in the state, isn't open yet, but it did get a foot of fresh over the weekend on top of some more natural snow about a week ago. A-Basin, by contrast, has had just a few inches of new snow but will be offering one run of mostly man-made snow Wednesday.

Still, it's always good to get back on the boards for the first turns of the season. For me it's been since mid-January, when I went out with a knee injury. The weather the rest of the week is supposed to be pretty balmy, so my plan is to go for a mountain bike ride Tuesday (part of my ongoing rehab) on still relatively dry single track in Vail, then hit the Basin on Wednesday. The rare bike-and-board double.

Speaking of, here's my even more rare boarding-and-blogging double in which I manage to awkwardly mix politics and skiing … yet again.

A Monday retrospective in the Aspen Daily News on presidential politics Aspen-style, questions Sen. John McCain's cred as a travel agent for touting Georgia as a top tourist destination at an Aspen Institute forum a year before Russia invaded the breakaway republic this summer.

Speaking at America's most famous ski resort, McCain apparently had not considered the fact that Russian Prime Minister Vladimir Putin is an avid skier who may have sent in the troops because of Georgia's close proximity to the Russian Black Sea resort town of Sochi, which is near the Caucasus Mountains and will host the 2014 Winter Olympics.

Such motivations would be reminiscent of Lt. Col. Bill Kilgore (Robert Duvall) taking a beach from the Vietcong for the quality of the surfing in "Apocalypse Now."

In August it was revealed McCain in 2006 enjoyed a day of jet-skiing on the Black Sea with his pal Mikheil Saakashvili, president of Georgia. Is it much of a stretch to imagine a McCain administration taking on Russia for the jet-skiing?


Cue "Flight of the Valkyries" and cut to McCain remarking "I love the smell of napalm in the morning."

Personally, I love the smell of ski wax in the morning.


Comment on "Silverton sees skiing; A-Basin opens Wednesday; and Georgia's always on McCain's mind" using the form below