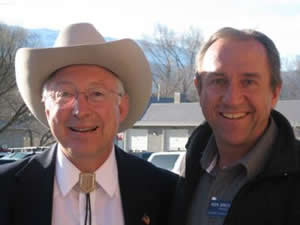 State Senate District 8 candidate Ken Brenner, right, shown here with U.S. Sen. Ken Salazar, pulled his signs off Avon developer Magnus Lindholm's land last week in protest of Lindholm's ongoing tax dispute with Avon and Eagle County.
Courtesy of Ken Brenner
www.kenbrenner.com
Blog Tools
Comments
PermaLink
State Senate candidate Brenner yanks signs off Lindholm's land to protest tax lawsuit
By David O. Williams
October 19, 2008 — Sunday drivers out soaking up mountain views along Interstate 70 will have a few less political signs to mar their vistas after someone stole two massive McCain-Palin signs near the Avon Wal-Mart Supercenter and Democrat Ken Brenner pulled his voluntarily from the same property.

Brenner, vying for the seat in state Senate District 8, yanked his signs Friday after the mountain town of Avon, at the base of Beaver Creek ski area, sued Traer Creek Metropolitan District on Tuesday for $650,000 in delinquent sales taxes and unpaid capital improvement fees.

One of only two Democrats given permission to put his signs on the land owned by Traer Creek developer Magnus Lindholm, Brenner in a release called on all the other campaigns with signs on Lindholm's land — mostly Republicans — to follow suit.

"I think it sends a mixed message for any candidate to receive campaign help from someone who apparently is not willing to pay their fair share for the government services we all rely on," said Brenner, a former city councilman from Steamboat Springs.

His Republican opponent, state Rep. Al White, of Hayden, told the Vail Daily Lindholm was innocent until proven guilty and that he would not take sides in the case by removing his signs.

Lindholm, a Swedish shipping magnate who is now one of the largest landowners in Eagle County, has a long and contentious relationship with the town and a history of tax disputes in his native Sweden. He is a supporter of the local Republican Party, whose candidates are all running on anti-tax platforms.

The reaction to Brenner's move has been mixed in the local media, with the Vail Daily — the dominant local paper that tries to politically position itself between the more conservative Vail Mountaineer and local liberal bloggers — ran a short story on its Web site but not in Saturday's print edition. Instead it ran a story about Republican signs being stolen.

The Glenwood Springs Post Independent ran the Brenner story on page 2 of its print edition, and the Mountaineer ignored the story altogether.

According to Democratic Eagle County commissioner candidate Jon Stavney, Lindholm denied Stavney's request to put up a sign because Lindholm supports former Avon councilwoman Debbie Buckley, Stavney's Republican opponent.

As of Saturday afternoon both Democrat Peter Runyon and Republican Dick Gustafson, vying for the other commissioner seat, had signs up on Lindholm's land. Gustafson has repeatedly attacked the incumbent Runyon on tax issues.

Comment on "State Senate candidate Brenner yanks signs off Lindholm's land to protest tax lawsuit" using the form below