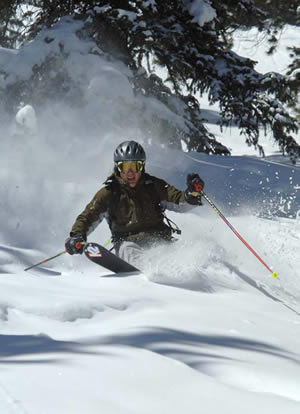 Liberal ski-blogging scum tend to push the full Dem slate for purely selfish reasons: environmental polices that would "Save Our Powder!"
By Dan Davis
www.trekkerphoto.com
Blog Tools
Comments
PermaLink
Vote to save our stashes: Liberal ski-blogging scum for Obama
By David O. Williams
November 3, 2008 — A rain squall with high winds passed through Vail last night and a quick glance at the tantalizingly chilly 10-day forecast has shifted my thinking from politics to powder.

While the rest of the nation (or at least the political geeks still locked into the 24-hour news cycle) are obsessing over polling numbers, catching interactive electoral map fever, I'm increasingly surfing over to the Weather Channel and weather.com.

Obama is now leading in Colorado by five points, but we could get up to five inches of new snow Election Day evening into Wednesday. You can tell by the stories on this site that I favor Colorado going blue again, but I'd be even more psyched for it to go white.

Just say no to red. It's a hot color, and skiers hate heat, unless it's toward the end of the season and we're looking for corn snow under a sizzling cobalt sky. Blue is cool, and a color increasingly symbolizing an environmental and energy-policy stance more in line with our sport.

It's harder for me every year as a lifelong skier to ignore studies showing our sport may not exist as we know it in 50 years, or to ignore my own observations from spending nearly 30 years of my life in colder more mountainous climates that are steadily getting warmer.

Last week was classic Colorado Indian summer. Highs in the 60s and low 70s; perfect biking weather. But we live here for the cold and the snow and charging down the mountain at high rates of speed while sliding on that snow. Not for balmy mountain breezes in November.

Even though oil and gas money built a lot of Colorado's resorts and Texas skiers have long been Centennial State staples, the fact is even a lot of Republicans (and oilmen like T. Boone Pickens) are admitting renewable energy is the future.

So why is there still such a vigorous debate about defiling our public lands to tap America's measly 3 percent of the world's oil and gas reserves when we consume 25 percent and clearly need to be subsidizing alternatives to the same tune oil and gas has enjoyed for the last century?

I'm fascinated by the inherent conflict presented by the current natural-gas boom on Colorado's Western Slope (see my story in Real News). The very tourism and outdoor recreation industry that brought so many of us here is threatened by the boom, but we seem to be proceeding as if they can coexist right next to each other for decades to come. There will be a breaking point.

I know jobs in our industry don't pay nearly as well and that in some ways the real estate development industry skiing spawned in the 80s and 90s is arguably more harmful to mountain ecosystems than oil and gas, but at least skiing is seeing the green light, promoting alternative energy and green building practices.

Oil and gas is in it for the short haul, gone the moment the gas is and leaving mountain communities reeling when market prices fluctuate (look up the day the oil shale died on the Western Slope in 1982).

Skiers and people who love the mountain lifestyle are in it for the long haul (or at least until their knees give out).


5 Comments on "Vote to save our stashes: Liberal ski-blogging scum for Obama"