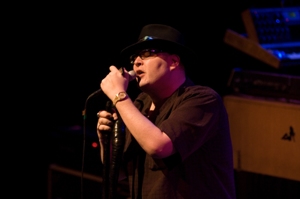 John Popper rocks the Vilar Center crowd during a fundraiser for the Millennium Society Tuesday night in Beaver Creek.
Dan Davis
trekkerphoto.com
Blog Tools
Comments
PermaLink
Blues Traveler comes up big in Beaver Creek
Millennium Society fundraiser strikes just the right note at Vilar Center
By David O. Williams
September 26, 2007 — The Mountains Win Again.


And so did the three charities benefiting from the largess of the more than 400 supporters of the Millennium Society who turned out Tuesday night (Sept. 25) at the Vilar Performing Arts Center to rock to the jam-band grooves of Blues Traveler.


Harpist and charismatic front man John Popper did lead the band in a killer version of "The Mountains Win Again," a hit from the band's multi-platinum, Grammy Award-winning album, "Four," but Tuesday night it was much more than just the name of a song.


The mountains did win again, with another awesome fall fundraiser courtesy of the Millennium Society (www.themillenniumsociety.org), a group dedicated to festive philanthropy in the Vail Valley that has – in back-to-back years – pulled off two huge concerts featuring former H.O.R.D.E Tour stalwarts Blues Traveler and Big Head Todd and the Monsters.


I'm starting the rumor now in a realvail.com exclusive: the next logical act in the jam-band progression would be (no, not Colorado's own, the Samples) the Dave Matthews Band. You read it here first.


But back to Tuesday night's show, suffice to say Blues Traveler left an at-times packed house (when they weren't in the lobby enjoying boutique Boulder vodka company Vodka 14's product) very satisfied by a nearly two-hour show that included crowd favorites "But Anyway," "Hook," and numerous tunes from their latest album, "!Bastardos!"


On a personal note, I was a little late for the show because I was handed the ultimate roadie task of tracking down a carton of Parliament Lights for Popper (at least I didn't have to sift through M&M's for the red ones), but that was seriously the only rock-god request from the band.


These guys could not have been more gracious with their time, putting on a stellar show in such an intimate venue, then working the crowd in an after party at the May Gallery that then spilled over into the Dusty Boot, which provided some seriously satiating eats during the show.


Popper even gave one lucky auction winner a private harmonica lesson and autographed harps to others in the crowd. And speaking of the crowd, click on the Blues Traveler ad in the upper right corner of this page and see who you recognize.


And believe me, if you weren't there Tuesday, next year you'll want to be one of those faces in the crowd.


Comment on "Blues Traveler comes up big in Beaver Creek" using the form below