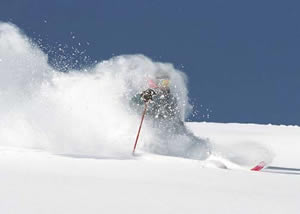 A little bit of this will go a long way toward taking people's minds off two international wars, a cratering economy and the uncertainty of a contentious election season.
By Dan Davis
www.trekkerphoto.com
Blog Tools
Comments
PermaLink
Winter storm won't hit Colorado, Vail until well after polls close, but could dump a foot of fresh
By David O. Williams
November 4, 2008 — Even the weather gods seem to be smiling on Sen. Barack Obama. Anyone dreaming of a white Election Day to put a chill on voter turnout in the battleground state of Colorado is seeing that fantasy fizzle.

Instead, a winter storm warning doesn't kick in until midnight Tuesday, long after the polls have closed at 7 p.m., MST. According to www.snowforecast.com, the Central Rockies in general and the Vail area in particular could get close to a foot of snow Tuesday night and through the day Wednesday.

In my previous blog, citing the (as one commenter and weather blogger firmly pointed out) clearly inadequate www.weather.com, I called for up to five inches of new snow. That swing in the polls mirrors the jump to double digits we've seen between Obama and Sen. John McCain since the economy went into the tank a month ago.

We need this blast of Pacific moisture to produce given the fact that three Colorado resorts – Breckenridge, Copper Mountain and Keystone – are for sure opening Friday (joining A-Basin and Loveland), and Wolf Creek is targeting that date but currently listed as TBA. Vail opens Nov. 21, and Beaver Creek follows Nov. 26.

Getting people to hit the slopes this season will have a lot less to do with convincing Americans they need the escape of mountain recreation during these stressful and trying time and much more to do with how much snow we get.

If this snowstorm doesn't materialize it'll be almost as nasty a post-Halloween trick as the 11th-hour, low-blow, anti-Obama Rev. Jeremiah Wright ad the McCain campaign just aired. The effect of that cheap shot will likely be negligible as Colorado appears poised to go blue for only the fourth time since World War II and the first time since it backed Bill Clinton in 1992.

Also remaining to be seen: the effects of last-minute nastiness in some of our local races here in the Central Rockies. A high-profile and highly costly state House race notable for its bizarre twists and turns — restraining orders requested and dropped, vows of celibacy — took a turn toward the ugly in the final days before today's election.

First, a prominent moderate Republican in Eagle County fired off a letter to the Vail Daily late last month questioning the resume of Republican House District 56 candidate Ali Hasan, prompting Hasan to send in an equally pointed response to Don Cohen, executive director of the Economic Council of Eagle County.

"Still living at home at age 28 in the Beaver Creek manse, Mom and Dad probably told him it was time to finally get a real job," Cohen wrote of Hasan, whose father is an HMO mogul with a massive house in the tony gated resort. "I'm all for young adults taking time to find themselves, but collecting job titles like baseball cards doesn't cut it when we're talking about serious public-policy work.

"Hasan's ideas are impossibly naive. And one has to wonder if prominent state Republicans who are captured in his 'grip and grin' endorsement ads are really doing nothing more that 'taking one for the team.' They've got to be thinking what many of us registered Republicans are: 'Couldn't we have done better?'"

Hasan, who's running against incumbent Democrat Christine Scanlan of Dillon, shot back, both in a letter and then an article in the Vail Daily on Friday, that his resume — filmmaker, teacher, land developer, environmental scientist, Muslim political pundit — is not at all overblown.

Calling his independent study degree in environmental science from Occidental College "pretty much the equivalent of a major," Hasan said Cohen is a longtime political rival with an axe to grind. "While I did not appreciate Don Cohen's letter, I do appreciate him giving me the opportunity to clear the record," Hasan wrote. "Thank you for reading!"

And two Democrats running for seats on the county commission in Garfield County accused conservative front groups with energy-industry backing of reaching new lows with deceptive attack ads and mailers, including one made to look like a legitimate newspaper.

Democrats Stephen Bershenyi of Glenwood Springs and Steve Carter of Rifle are both locked in especially bitter races against Republicans John Martin and Mike Samson. Nearly $50,000 in outside money from 501(c)4 nonprofit political groups and 527s has poured into the fray.

A mailer intended to look like a newspaper called the Garfield County Post recently hit post office boxes in the rural but energy-rich county that stretches from Glenwood Canyon to the Utah border. It accused Bershenyi of opposing a proposed Glenwood Springs development for personal profit and Carter of trying to make Garfield County a sanctuary for illegal immigrants. Both Dems strongly denied the allegations and rejected the smear tactics.

"They're reaching a new low," Carter told the Aspen Daily News. "These folks are funded by the CEOs of the energy companies. They must be getting desperate if that's the best they're coming up with."

According to the Daily News, a Sunday story in the Great Falls Tribune said two of the groups that targeted the two Dems — the Coalition for Energy and the Environment and Western Tradition Partnership — are being sued for electioneering violations in Montana.

Colorado Republican operative Scott Shires is the registered agent for the Coalition for Energy and the Environment, and the Daily News reports another group that's been supporting the two Republicans in the race, Western Heritage, is funded by the CEO of the oil and gas company Antero Resources. Small Town Values, a Denver-based group registered to the attorney for the state Republican Party, John Zakhem, has also campaigned on behalf of Samson and Martin.

Both Dems have questioned the legality of the mailers and attack ads and considered filing a complaint with the secretary of state's office, but the political watchdog group Colorado Ethics Watch told the Daily News the tactics may be reprehensible but likely aren't illegal.

Makes our own Eagle County commissioner races look tame by comparison: no big outside infusions of cash; just plenty of heated rhetoric over taxes and spending by county government.





Comment on "Winter storm won't hit Colorado, Vail until well after polls close, but could dump a foot of fresh" using the form below