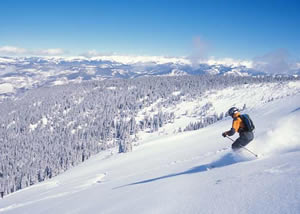 Conditions likely won't be quite this good at Beaver Creek when it opens for the season Nov. 26, but with two weeks to go and quite a bit of fall snow so far, you never know.
By Dan Davis
www.trekkerphoto.com
Blog Tools
Comments
PermaLink
Snow slowly, steadily piling up at Vail, Beaver Creek with 10 days till opening day
By David O. Williams
November 12, 2008 — As promised, I'm getting back on topic here in the O. Report. We're still 10 days away from opening day at Vail (and about 10 months from the last time I strapped on skis), and things are starting to look up from a snowpack standpoint.

This time last year we were high and crispy dry, with literally zero snow heading into the critical stretch run before Thanksgiving and World Cup week at Beaver Creek. Vail's opening day actually got pushed back a few days; that won't be the case this season.

A slow-moving storm has dropped about seven or eight inches the last couple of days, following another significant storm (about half a foot) a week ago, and temps have been cold enough for crews to make plenty of the faux stuff in between. To boot, a couple of weak fronts are forecast to come through in the next week.

If ever there was a season we needed early snow to generate buzz, this is it. So my plan is to get out there and give O. Report readers a first-hand account either later this week or early next week.

Six ski areas are currently open -- Arapahoe Basin, Breckenridge, Copper Mountain, Keystone, Loveland and Wolf Creek -- and Copper appears to be the big winner the last couple of days with 9 total inches, but everyone else was close. Look for us to add the Breck and Keystone snow reports in coming days, once we figure out the Vail Resorts feed (they're no longer part of the Colorado Ski Country USA snow report currently on this homepage).

A few more inches are in the forecast through the weekend, which is good for both building a base and keeping temps right for snowmaking. If you've already been out on the hill this season, please post a comment and let us know how it is.

My well-documented knee injury that sidelined me for most of what turned out to be the third snowiest season in Vail history last season is a thing of the past after surgery and a summer of mountain biking. So it looks like a trip over Vail Pass to Summit County is in order soon. Stay tuned.

Meanwhile, in other, less happy ski industry news:

The Yellowstone Club, a gated ski and golf resort off the backside of Big Sky ski area in Montana, filed for Chapter 11 bankruptcy protection Monday, citing an inability to secure financing with its creditors and bondholders.

A private ski mountain the size of Beaver Creek in Colorado, the Yellowstone Club's members include Bill Gates, Dan Quayle and director of skiing Warren Miller. One of its more famous members, American cycling great Greg LeMond, recently settled a lawsuit over his ownership stake. The Club also was taken over by CEO Edra Blixseth, wife of founder and billionaire timber baron Tim Blixseth, in a messy divorce settlement.

The Yellowstone Club debacle doesn't bode well for a private resort near Vail being planned using a similar model. Florida developer Bobby Ginn's Battle Mountain project off the backside of Vail Mountain has slowed down its approval process because of the softening high-end real estate market, despite getting overwhelming annexation approval from Minturn voters in May.

The Ginn Company, with golf and beach resorts throughout the South, has experienced its own credit problems in recent months, and now the developers say they're in no hurry to submit their final plans for the property between the old mining towns of Minturn and Red Cliff to the south of Vail. Preliminary plans called for a ski area, golf course, hundreds of high-end homes and two gondolas on the former patchwork of mining claims, part of which is an EPA Superfund site.

And fresh off delivering what some pundits say was the kiss of death for John McCain by endorsing the senator just before the Nov. 4 election, lame-duck Vice President Dick Cheney may be a bit distracted from trying to cement the Bush legacy in the administration's final 100 days.

A Denver man steadfastly refuses to drop his lawsuit against Cheney stemming from a 2006 dustup at Beaver Creek. On Monday, Steven Howards appealed a federal judge's decision in April that blocked a subpoena seeking Cheney's testimony.

Howards alleges that he lightly touched Cheney, who was attending the hush-hush conservative confab called the AEI World Forum, and told him the administration's policy in Iraq was "disgusting."

Howards was arrested by Secret Service agents who claimed he assaulted the VP, but Republican Eagle County District Attorney Mark Hurlbert (of Kobe Bryant fame) refused to press charges. Howards' lawsuit alleges his First Amendments right of free speech was violated.

It remains to be seen if the World Forum, launched by former Beaver Creek resident President Gerald Ford in the 1980s, will lose its luster or become even more critical to the conservative politicos who attend outside the mainstream media spotlight.

Hopefully much fluffier news reports will focus on the resort in coming months.


Comment on "Snow slowly, steadily piling up at Vail, Beaver Creek with 10 days till opening day" using the form below