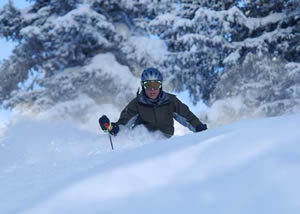 It may not be quite as epic as this file photo of the blogger in the Back Bowls last season, but Saturday's rope drop on Sun Up and Sun Down should be fairly worthy.
By Dan Davis
trekkerphoto.com
Blog Tools
Comments
PermaLink
Vonn victorious at Lake Louise, Vail opens Back Bowls, Svindal gets revenge on Birds of Prey
By David O. Williams
December 5, 2008 — Americans may not have not have won a World Cup in the Vail Valley Friday but a Vail racer did win a World Cup in Canada.

Ski Club Vail product Lindsey Vonn captured her record fifth downhill at Lake Louise, Canada, Friday (the most by any racer on a particular course) and is now just three World Cup wins from catching Tamara McKinney for the most victories by an American woman.

Meanwhile in Beaver Creek, Bode Miller crashed in the men's downhill, Marco Sullivan skied out and Steve Nyman wound up seventh, but there are still two more days for the Americans to redeem themselves on a course where they're ratcheted up expectations with so many podiums in recent years.

The story Friday was Aksel Lund Svindal's remarkable comeback from a season-ending injury during training here last year when he crashed on the Golden Eagle Jump, broke bones in his face and suffered a deep laceration in his buttocks. Svindal came all the way back and won on Friday.

If you're reading this in drive time, or even fly time, get up here for the opening of Vail's legendary Back Bowls (at least two of them – Sun Up and Sun Down) Saturday. It will be a rope drop and land rush of epic proportions.

Then after you've carved up the four or so feet of snow Vail's received in the last week or so, get over to Beaver Creek for the start of the super-G at 11 a.m. And grab a last-minute lodging deal on our Vail on Sale Last Minute Lodging page so you can stay over for the men's giant slalom on Sunday.



Comment on "Vonn victorious at Lake Louise, Vail opens Back Bowls, Svindal gets revenge on Birds of Prey" using the form below