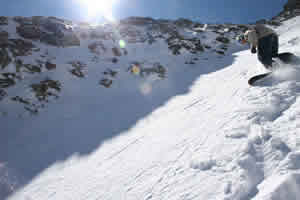 A resort worker takes on the steeps of Silverton Mountain Sunday, Oct. 7, with a foot of fresh fluff that fell overnight Saturday, Oct. 6. Silverton doesn't open to the public until Dec. 1, but Arapahoe Basin cranks up the lifts Wednesday, Oct. 10.
Courtesy of Silverton Mountain
www.silvertonmountain.com
Blog Tools
Comments
PermaLink
The Legend of the fall: A-Basin wins race to open first
By David O. Williams
October 9, 2007 — And the winner is Ö Arapahoe Basin.


The first ski resort to open to the skiing masses in Colorado this season Ė and in fact the nation - is A-Basin, which cranks up the lifts at 9 a.m., Wednesday, Oct. 10.


A-Basin wins skiingís equivalent of the Cold War arms race for marketing play by beating out Loveland ski area for the second straight year.


A-Basin just clipped Loveland at the tape last season when it opened Oct. 13, but Loveland has the record for the earliest opening Ė Oct. 6, 1985. Oct. 10, however, marks the earliest ever opening day in the 61-year history of A-Basin, aka The Legend.


A-Basinís Exhibition Chair will serve the intermediate High Noon run and some features in the High Divide terrain park, both boasting an 18-inch, presumably packed base, consisting of a lot of manmade snow. There will be no beginner terrain open.


Itís an auspicious start to the season for the Summit County resort high on the Continental Divide, because sometime in late December A-Basin will introduce Montezuma Bowl, 400 acres of lift-served groomed runs, glades, chutes and wide-open bowl skiing off the back side of the mountain.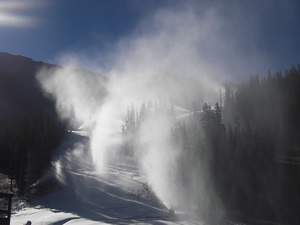 Arapahoe Basin, high on the Continental Divide in Summit County east of Vail, opens for the season Wednesday, Oct. 10, with 18 inches of manmade and natural snow.

Opening day adult lift tickets are $45, youth tickets for ages 15-19 are $39, and childrenís tickets, ages 6-14, are $22. Ski and snowboard rentals and food and beverages will be available in the A-Frame, and the 6th Alley bar and retail shop will be open to the public as well, although there will be no ski school lessons until November.


Go to www.arapahoebasin.com for more info and keep checking out our Colorado Snow Report in the left column of our site for more opening dates.


This achieves my dream of ski season kicking off while baseball is still being played in Denver. Iím headed to the Colorado Rockies first National League Championship Series home game (Game 3 in the series) on Sunday, Oct. 14, and a cold front moving through that day could dust the high peaks for the national TV cameras.


Speaking of snow sports imagery whetting the appetites of the skiing and riding public, the photo with this blog is not a preview of conditions at A-Basin (sorry for the psyche) but is instead of actual shredding that occurred last weekend at Silverton Mountain in Southwest Colorado.


Nearly a foot of snow fell on Silverton overnight Saturday, Oct. 6, so the mountain ops crews headed up for some turns Sunday on the expert-only and arguably most intense terrain in the state (although the Basin gives it a run for its money closer to Denver once more snow falls).


Silverton doesnít open until Dec. 1 and most of the new snow fell above 12,000 feet, but Silverton is the highest ski area in North America with runs as high as 13,487, so some of the white stuff that dropped will be around until the spring. Go to www.silvertonmountain.com for more info and to check this place out. It is a unique and crazed high-alpine ski experience.


Closer to home, Vail opens Nov. 16 and Beaver Creek cranks it up Nov. 21. Weíre only a little more than a month away and increasingly pumped for what promises to be a big La Nina season (or not Ö itís hard to predict these things).


Now, some housecleaning. Kurt Desautels currently of the Colorado Tennis Association and formerly a RealVail local, was in town long enough the other day to bag on my blog in which I compared tennis to polo in, I think, a lame attempt to plead for the ongoing relevancy of our sport and fight the misperception that itís an elitist endeavor. Youíre right, Kurt, tennis is a true sport, where the humans are the athletes, not horses.


Kurt had a better slam when he questioned what kind of RealVail local would call the old Chair 10 at Vail a triple, and I have to say that was simply a typo. I all-to-well remember the bar in the middle and wonít miss the endless ride to the top of Highline.


Finally, there was one more Vail Town Council candidate who threw his hat (and petition) in the ring by the 5 p.m. deadline Friday. East Vailís Robert Schilling got in under the wire to make it a total of 11 candidates for five council seats, but then he reportedly changed his mind and withdrew on Monday, thereby setting the official record for the shortest council campaign in Vail history. Thanks for at least thinking about it, Robert.


Comment on "The Legend of the fall: A-Basin wins race to open first" using the form below