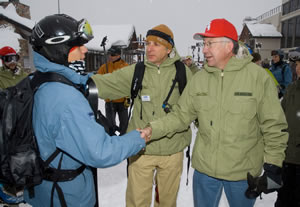 Shown here two seasons ago at Vail, Sen. Ken Salazar, who gets out skiing a few times a year, is up for Secretary of the Interior.
By Dan Davis
trekkerphoto.com
Blog Tools
Comments
PermaLink
Huge powder day at Vail, Beaver Creek, Forest Service tweaks ski-photo rules, and Salazar is a skier
By David O. Williams
December 17, 2008 — Day 6 of my 2008-09 season at Vail Tuesday wasn't quite as deep as I was hoping for (4 new reported overnight but probably a couple more between that 5 a.m. report and first chair on Chair 8 at 9 a.m.), but it was still highly worthy.

But it lightly snowed all day Tuesday, through the night and into Wednesday. Vail is reporting 10 new as of 5 a.m. for a total of 36 inches since it first started snowing Friday. Beaver Creek is reporting 11 new and 38 total since Friday evening. And get this, it's still snowing as I write this at 6:45 a.m. Wednesday. I may have to get back out there for Day 7.

Bear this in mind, though, last Wednesday, Dec. 10, there was an inversion that pushed 15-degree air down onto the valley floor while it was nearly 40 degrees atop the mountain, where it rained and promptly froze. That's a regular occurrence at coastal Whistler-Blackcomb, where there was a nasty gondola accident Tuesday, but it's virtually unheard in the dry continental climes of Colorado.

What that did is provide a layer of ice for all the new snow we've had since then to slide on (especially given the wind events of recent days), and so we saw an incredibly rare inbounds avalanche that partially buried a local skier Sunday.

On Tuesday, a guy I rode the lift with told me he skied the Lover's Leap section of Blue Sky Basin right before the slide and was spooked, especially when he noticed the size of the cornice and the lack of ski patrol bomb craters.

What this says to me is that the guys I heard in the very short line Tuesday morning talking about skiing the out-of-bounds East Vail Chutes, scene of two avalanche deaths last season, were absolutely stark-raving mad. Why go out there when Genghis was untouched in places at 10:30 a.m. Tuesday and there were virtually no lift lines?

I did a quick Ouzo, Seldom, Yonder, Genghis, Genghis, Red Square, Highline and was back to work by noon after some nice boot-deep turns. Everything is very soft in every direction and on every aspect, and will certainly be even better today (Wednesday). Get up and get it.

Now for some public-lands and political news, especially as it relates to skiing and the weather:

As if the underfunded U.S. Forest Service didn't have enough to worry about regulating mining, oil and gas production, logging, cattle grazing and ski-area development on national forest land, now it's in the photography business too.

The Forest Service's Aspen-Sopris Ranger District recently tightened up its rules for commercial photo shoots within ski-area boundaries on Forest Service land, reacting in part to the death of an Aspen man who was snowboarding for a film company in steep terrain just outside Aspen.

The Forest Service has always required permits for film crews working outside of ski-area boundaries on public lands, according to the Aspen Times, but now it will require permits for commercial shoots within ski-area boundaries as well.

Ski company officials regularly used to allow film companies shooting commercials or ski films to work within ski-area boundaries without a permit if they agreed to promote the resorts. Now those shoots must be permitted, and ski companies have to notify the Forest Service.

And on the Ken Salazar watch (he's expected to be nominated for Secretary of the Interior today in Chicago, weather permitting), the skiing senator cancelled a trip to the Western Slope this week, citing the ongoing storm cycle, but now we know the real reason.

And while some Western Slope politicians are eagerly eying their slice of the federal stimulus package pie expected from the Obama administration early next year, other lawmakers are already starting to craft a long-term funding fix for crumbling roads and infrastructure at the state level.

According to the Grand Junction Free Press, a group of Mesa County leaders called the Grand Valley Metropolitan Planning Organization, representing the towns of Fruita, Palisade and Grand Junction, on Tuesday planned to hand Salazar a 17-item wish list of everything from new wastewater treatment plants to road-widening projects to new hybrid buses.

The nearly $234 million list included projects all believed to fit the parameters of the stimulus package, which will likely require they be "shovel-ready" in the next six months. That meeting with Salazar, however, was canceled because of a series of massive snowstorms buffeting western Colorado.

Other area lawmakers say federal money may be a nice one-time injection of cash in order to immediately address critical infrastructure shortfalls for crumbling bridges and roads, but it won't provide a long-term funding source to maintain and upgrade the state's highway system.

Transportation funding tops most Western Slope lawmakers' lists of top-priority legislation for the coming session of the new state Legislature, slated to begin the first week of January in Denver.

Senate Minority Leader Josh Penry, R-Grand Junction, told the Grand Junction Daily Sentinel he wants to leverage the state's assets –- such as buildings and mineral tax revenues –- to perhaps avoid new fees and taxes to fund the state's $1.5 billion transportation-funding shortfall.

"A lot of states are being creative, leveraging assets so that the default isn't a big tax or fee increase. I think we can do the same," Penry said. "The benefit to doing it this way is it's a proven approach, legally, that can be done immediately so those dollars can be in the economy. We can be fixing bridges across the state of Colorado by March and April, which has economic benefits as well."

And the federal government's new oil shale leasing royalty structure and the downward-spiraling economy apparently aren't having an impact the plans of three major oil companies conducting research in Colorado's Piceance Basin.

According to the Glenwood Post Independent, royalty rates of 5 percent announced in November have not dampened the enthusiasm of Shell, Chevron and American Shale Oil to find a way to squeeze black gold from the rocks and sand of the Western Slope.

The companies are moving forward with research and exploration despite not getting their wish of lower royalties "that would be more conducive to get a start-up industry off the ground."

On the other hand, Salazar, who previously helped legislate a one-year ban on commercial oil-shale leasing that expired in September, said the Bureau of Land Management's new royalty rates and leasing regs "sell Colorado short."

That could be bad news for the nascent and highly speculative industry, because Salazar has reportedly accepted Obama's offer to serve as the next Secretary of the Interior.

I wonder if that means we'll never see him again on the slopes of Vail, where I interviewed him two seasons ago when he came out in support of the at-risk kids participating in Snowboard Outreach Society programs.



3 Comments on "Huge powder day at Vail, Beaver Creek, Forest Service tweaks ski-photo rules, and Salazar is a skier"