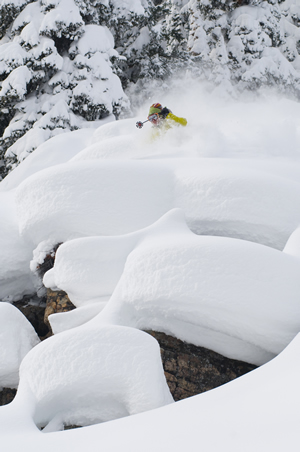 Chris Anthony plows through the pillows of snow in Stone Creek Chutes at Beaver Creek on Christmas Eve. The area opened for the season Christmas Day.
By Dan Davis
trekkerphoto.com
Blog Tools
Comments
PermaLink
Holiday snow just keeps on pounding Vail Valley ski areas
Beaver Creek opens Stone Creek Chutes in time for Christmas crowds
By David O. Williams
December 26, 2008 — Happy holidays from RealVail.com, where we finally decided to take time out from powder skiing and holiday festivities long enough to let you know what you're missing if you're reading this anywhere outside of the Vail Valley.

Christmas Day was a break in the action with only an inch or two of new snow reported. The big storm predicted to roll through the valley Thursday and Friday apparently was delayed a bit. But I woke up this morning (Friday) to 5 or 6 inches of fresh on my deck in West Vail, and the snow was coming down fairly hard as of 9 a.m.

Beaver Creek gave backcountry light skiers an awesome Christmas present Thursday in the form of the Stone Creek Chutes – 180 acres of inbounds cliffs and chutes choked with powder and accessed via a backcountry gate (see photo).

Now the Beav is 100 percent open for the holidays, and Vail is just a few acres shy. Everything is absolutely buried under all the snow that essentially started falling Thanksgiving weekend and seemingly hasn't stopped since. Both Vail and Beaver Creek have received more than 8 feet of snow in December.

If those near-record totals aren't good enough for you, you may want to consider a trip down to the San Juan Mountains in the southwest corner of the state. That's where one-lift-wonder and big-mountain-skiing paradise Silverton Mountain got more than 3 feet overnight. Those 40 inches brought its season-to-date total to 196 inches. Amazing.

Still, check before you go because that's so much snow it shut down access to Silverton Mountain. And, of course, it's a long jaunt down there, especially when the skiing is so good close to home.

I got out for Day 10 of my 2008-09 season on Tuesday and it was a perfect 10 in terms of snow conditions: 13 inches of new snow on top of 4 inches the days before at Vail. The Bowls were absolutely crammed with light, deep snow.

Twelve runs nearly put me in traction that day, and I've been taking it easy since, putting together annoying toys for my kids and fantasizing about Day 11.

Meanwhile, if you're even remotely wavering on whether to pull the trigger on a ski trip or save for a beach vacation later in the winter, consider this: you are missing out on possibly historic snowfall totals.

This is like 2007-08 all over again. Last season wound up being the snowiest on record at Beaver Creek and third snowiest ever at Vail.

So get out here and get some while the getting is good. And have a happy New Year.


Comment on "Holiday snow just keeps on pounding Vail Valley ski areas" using the form below