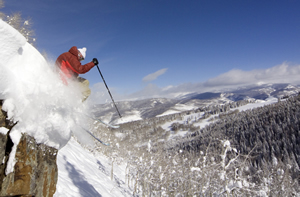 Ten feet of snow has fallen at Beaver Creek in December, including 14 straight days of snowfall through Saturday, when Jason Roberts aired things out at the resort.
Cody Downard
beavercreek.snow.com
Blog Tools
Comments
PermaLink
Frigid temps give way to almost balmy powder days in Vail, with more snow on tap for 2009
By David O. Williams
December 30, 2008 — The last couple of ski days in the Vail Valley, by all accounts, have seen the best of both worlds: lots of deep, soft snow and more-humane temperatures in which to enjoy the fluff underfoot.

I say "by all accounts" because I wasn't able to get out Sunday or Monday, but reliable sources (namely more fortunate family members) gleefully informed me of the double whammy of comparatively benign weather conditions (lots of sunshine and highs in 20s and 30s) and fantastic powder.

The last time I was able to get out for some first-hand "research" was Saturday (Day 11 of my 08-09 season), and the snow was sweet after a weekend storm but the temps were utterly brutal. My son Nick would have screamed for me to stop telling him how much colder it was when I was a kid growing up skiing western Pennsylvania except his lips were frozen to his neck gator.

The high was about 12 degrees Saturday, which was fine while the sun was poking through. When more clouds rolled in and the wind kicked up, it was suddenly a day fit for only the most hard-core of snow sports enthusiasts. I would have kept skiing (I love it like that because it eliminates the pretenders), but I had women and children to think about.

Forecasters are calling for a period of more tolerable temps before another chance for snow New Year's Eve (Wednesday) into New Year's Day (Thursday), which fits a pattern of powder days on Jan. 1 we've enjoyed the last few seasons. If you can stay relatively sober and get out there early, you can usually ring things in right with some freshies to celebrate the New Year.

All of the cold and snow, of course, does not suggest to me we've turned some sort of corner on global climate change and are heading back into a new ice age. Far from it, in fact. I still remember the savage Colorado cold snaps of the 80s and 90s when temps wouldn't get out of the single digits for weeks on end.

At my parents' home in the Fraser River Valley of Grand County in the 1980s I once experienced an evening when the mercury dipped to 58 below. The radiator block in my '66 Dodge froze solid and I had to walk about a mile back to their house that night.

It will take those kinds of temps again to convince me global warming isn't real (and to kill off the mountain pine bark beetle). Meanwhile, there is an endless stream of evidence that our current energy infrastructure is wreaking havoc with our fragile ecosystems here in the West.

Major reservoirs in the 1,450-mile Colorado River drainage could dry up in the next 13 years because of drought and climate change, according to one environmental report — a situation exacerbated by unprecedented energy production in the basin in the last eight years.

A Dec. 21 ProPublica story also published in the San Diego Union-Tribune reports that: "In the eight years George W. Bush has been in office, the Colorado River watershed has seen more oil and gas drilling than at any time in the past 25 years. Uranium claims have reached a 10-year high. [And] last week the departing administration auctioned off an additional 148,598 acres of federal land for gas drilling projects outside Moab, Utah."

The ProPublica story also points out that 11th-hour Bush administration rule changes opening the door to the water demands of oil shale mining will put even more pressure on what the Scripps Institution of Oceanography calls the "most endangered" waterway in the United States.

"The decisions we are making today will be dictating how we will be living the rest of our lives," Jim Pokrandt, a spokesman with the Colorado River Conservation District, told ProPublica. "We may have reached mutually exclusive demands on our water supply."

RealVail.com has been sounding the oil shale alarm for months now and also recently cited a state-funded report on the scarcity of water in the state's major drainages that feed into the Colorado. Northwestern Colorado is ground zero for the energy versus water debate.

But the ProPublica piece expands that debate to include the water demands of uranium mining and natural gas production, pointing out that growing pressure to tap domestic energy sources could drastically curtail the residential and commercial development potential of the arid Western states.

"Without (the Colorado), there is no Western United States," Jim Baca, director of the Bureau of Land Management under the Clinton administration, told ProPublica. "If it becomes unusable, you move the entire Western United States out of any sort of economic position for growth."

According to the story, current oil and natural gas drilling in Colorado already consumes so much water that if the annual demand was fulfilled in one fell swoop it would require cutting off all the water to Southern California for five days. Add oil shale mining into the mix and the faucet would go dry for 79 days.

So it would seem to make sense to place some environmental limitations on the industry, but state Sen. Josh Penry sounded the death knell for the Colorado oil and gas industry in the Wall Street Journal last week, complaining that new regulations put forth by the state Oil and Gas Conservation Commission would drive drilling to other states.

"These rules have made a grim situation almost intolerable for these companies," the Grand Junction Republican told the Journal. "This is killing jobs."

Apparently Penry didn't read RealVail.com's recent story on a report by the nonprofit research group Headwaters Economics. That report indicated that oil and gas doesn't contribute enough to the state's overall economy to give the industry too much environmental or public-health leeway.

The new regs, which are still subject to the approval of the state legislature, restrict drilling in and around drinking water supplies and require notification of wildlife officials during the permitting process.

As the Journal points out, "The rules, which take effect in the spring, aim to strike a balance between two resources critical to Colorado's future: the bounty of natural gas buried underground and the natural beauty of a state rich in outdoor tourist draws, from sparkling trout streams to rugged big-game habitats." To untrammeled powder fields ripe for skiing, I might add.

The Headwaters report indicates there's another economic segment attracted by the state's natural beauty: retirees and second homeowners who require professional services that typically pay more than tourism-based jobs.


Comment on "Frigid temps give way to almost balmy powder days in Vail, with more snow on tap for 2009" using the form below