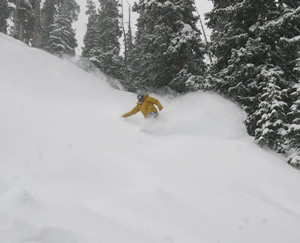 Just over Vail Pass at Copper Mountain it was deep and nasty Monday. Head over and check out their new Tucker Mountain snowcats (free ride with a lift ticket), accessing the steeps of Tucker Mountain and Copper Bowl.
Courtesy of Colorado Ski Country USA
www.coppercolorado.com
Blog Tools
Comments
PermaLink
Vail hits the 250-inch mark of snow for the season with 32 new since Friday
By David O. Williams
January 28, 2009 — For the fifth straight day, Vail is sporting a fresh coating of snow. It's Wednesday morning and Vail is reporting a mere 3 inches, but add that on top of 9 Tuesday, 6 Monday, 6 Sunday and 8 Saturday and you come up with nearly 3 feet of fresh snow since Friday.

That brings us to the magical 250-inch mark (more than 20 feet) for the season ... and counting.

I got out on Monday for Day 22 of my 08-09 season (surpassing the three-week mark on skis so far this season and heading rapidly for the one-month mark) and it was one of the better days of what's already been an amazing season.

I went Chair 8 to Chair 2 and jumped into Faro Glade, then a pristine run through the Seldom trees, up Chair 5 and down Yonder trees. From there it was two Genghises (Genghi?), one of my favorite trees runs (which I refuse to name) and a quick shot down Whiskey Jack to Chair 11. My front-sider to the bottom went Powerline, lower Look Ma, Spruce Face, International, Pepi's (all untracked all the way down).

Work on Tuesday kept me from what must have been one of the top-three days of the season so far at Vail, but if you can verify that first-hand, please post a comment and rub in the fact that you got out there and I didn't.

It's snowing lightly as I write this a little after 8 a.m. Wednesday, with yet another storm rolling through, so Thursday and Friday should be nearly as epic. And the weekend is shaping up as clear and sunny for those of you who like to see while you ski.

But while we're up here mining all this white gold, the real stuff is getting unprecedented attention on Capitol Hill. On the same day a West Virginia lawmaker introduced the Hardrock Mining and Reclamation Act of 2009, the Pew Campaign for Responsible Mining Tuesday released a report finding industry subsidies could cost American taxpayers up to $1.6 billion dollars in the coming decade.

Democratic Rep. Nick Rahall, chairman of the House Natural Resources Committee, is looking to reform the General Mining Law of 1872, signed by President Ulysses S. Grant, which allows for the royalty-free extraction of gold, uranium and other hard-rock minerals from public lands across the West.

The House passed a similar bill in 2007 but the Senate failed to take action during the 110th Congress. Rahall's bill would impose a 4 percent royalty on existing mines and an 8 percent royalty on new mines — percentages that are in line with what the coal, oil and gas industries currently pay.

Sen. Jeff Bingaman (D-N.M.), chairman of the Senate Energy and Natural Resources Committee, also is reportedly interested in moving mining reform forward in the Senate early this year.

"We are pleased that chairman Rahall is making mining law reform a top priority," said Velma Smith, manager of the Pew Campaign for Responsible Mining, a project of the Pew Environment Group. "We look forward to working with chairman Rahall, chairman Bingaman and Interior Secretary Ken Salazar to finally fix this outmoded law, which has been a boom for a handful of global mining companies and a bust for American taxpayers."

Should be a fight worth watching, especially for residents of Colorado's mining country. Stay tuned.

2 Comments on "Vail hits the 250-inch mark of snow for the season with 32 new since Friday"