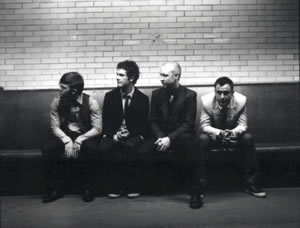 The Fray, just here for Vail Snow Daze, will play the Vilar Performing Arts Center Friday, March 6.
Courtesy of The Fray
www.thefray.net
Blog Tools
Comments
PermaLink
Latest storm comes up short (not by much), but freshies can still be found in the trees
Denver's The Fray back for benefit show at the Vilar; tickets go on sale Monday
By David O. Williams
February 20, 2009 — On Wednesday in this space I expressed disappointment in a storm that was supposed to move in late Monday and dump up to 16 inches by Thursday. It failed to do so.

Instead, Vail reported 5 new on Wednesday and 5 new on Thursday for a two-day snow total of 10 inches. I headed up late Thursday afternoon to verify the official report.

Out on the open trails, pretty much everything had been skied off. Although the skiing was still relatively soft, I did encounter a few hard-packed patches that quickly send me into the trees in search of those elusive 10 inches. And I found them in fairly short order.

Ouzo delivered to some degree, but Lost Boy trees were loaded with legit boot-deep snow. Same with Riva trees and some other tree runs that will remain unnamed.

So for those of you posting comments to the effect that the O. Report and Powder Predictor collectively have their heads in a tree well, relax just a little bit. True, it was not epic up there, nor did the storm produce what was expected, but Day 30 of my 08-09 did not suck.

Speaking of not sucking, Denver's own The Fray is back after headlining Vail Snow Daze in December. The Friday, March 6, show at the Vilar Performing Arts Center is a fundraiser for VH1's Save the Music program and VPAC's Education Outreach.

A special pre-sale of tickets to VIP's and friends of the VPAC and VVF kicked off Thursday, and the remaining tickets go on sale to the public Monday. Should be a good one.

The Fray's 2005 album How to Save a Life sold more than 3 million copies in the U.S. and netted the band three Grammy nominations and play on the "Gray's Anatomy" TV show.

Their sophomore album, The Fray, debuted this month at No. 1 on Billboard album charts.

Kind of like mountain weather, who could have predicted that? But back to that subject, after a fairly warm and dry weekend, snow showers are back in the forecast for Tuesday.

I'm not yet calling for a certain snowfall total. Maybe I'll stick me neck out there early next week. Enjoy.

Comment on "Latest storm comes up short (not by much), but freshies can still be found in the trees" using the form below