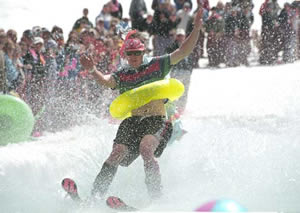 It's way too early for this nonsense, but the balmy weather of late is making us wonder.
By Dan Davis
trekkerphoto.com
Blog Tools
Comments
PermaLink
Spring splashes down a week or two too soon in Vail; snowpack dwindling a bit as temps push 50
By David O. Williams
March 2, 2009 — Temps have been topping out in the upper 40s the last few days in the Vail Valley, and while that is really good news for my driveway, where you can now see pavement for the first time since November, it's been a bit brutal for everyone except the most fair-weather of snow riders.

True, Vail stands at 311 inches of total snowfall for the season after stellar December and January totals, but because of a below-average February we will now have to average slightly under an inch a day for the final 48 days of the season just to reach the seasonal average of 350.

Of course, it would be nice to get all of that in one storm cycle (which can happen), but there's no sign of significant precip in the forecast until Friday, and that's a bit scary for local powder hounds who've been wandering around with their tails tucked between their legs the last week or so.

I can say, though, that the coverage is still awesome. I got up on Sunday and enjoyed a classic spring-skiing afternoon (Day 32) with my two older sons, who were not complaining at all about the heat pouring off the snow or out of the sky.

Winter will return. It always does. But springtime seems to be coming earlier and earlier every season.

Last season aside, when more than a foot of snow fell just before closing day and we wound up with the third-highest snowfall total in Vail history, March and April haven't been what they used to be.

Purely anecdotal evidence of global climate change, I know -- like the oil workers I overheard on a plane flying to heli-ski in Alaska talking about how the glaciers had all receded 15 miles in the last decade -- but for skiers, word of mouth is everything.

And the word has not been good for the ski industry lately, especially the ultra high-end areas. The most recent luxury resort to open (and one of only a handful since Beaver Creek came online in the early 80s), Tamarack Resort in Idaho is shutting down for the season and possibly for good, unable to make payments on a $250 million loan from Credit Suisse.

That's the same lender behind the private Yellowstone Club ski and golf resort near Big Sky, Mont. (now in bankruptcy protection) and the Ginn Company, developers of the proposed private Battle Mountain ski and golf resort off the backside of Vail Mountain between Minturn and Red Cliff.

The near future looks bleak for ski areas heavily dependent on real estate revenue (see related story in Real Estate), and resorts more invested in pure ski, lodging and retail operations will still need the snow to keep coming in order to put heads on beds and snow riders in the mazes. Let's hope the snow gods get busy again.

Now if you'll excuse me, I'm going to take advantage of this premature spring blip, don my ceremonial loincloth and do a little snow dance on my driveway (which is now easily dry enough).





Comment on "Spring splashes down a week or two too soon in Vail; snowpack dwindling a bit as temps push 50" using the form below