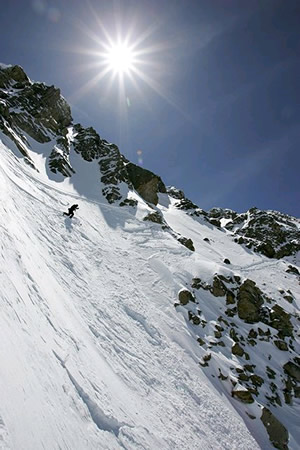 Seriously, it's still this sick up there. Arapahoe Basin boasts great top-to-bottom coverage and doesn't close till June 7.
Courtesy of Casey Day/Arapahoe Basin
www.arapahoebasin.com
Blog Tools
Comments
PermaLink
Biking, Basin biathlon makes for another great weekend high in the Rockies
By David O. Williams
May 18, 2009 — Sunday I got in Day 45 of my 2008-09 ski season by heading to Arapahoe Basin, the only resort in the state still cranking the lifts up every morning.

A-Basin has solid top-to-bottom coverage that should hold up until closing day June 7, even if the weather stays as balmy as it's been. On Sunday, temps were hovering in the upper 50s and low 60s.

When we got back to Vail, the thermometer was reading low 70s. Much higher and we'll see an accelerated runoff and shortened rafting season, which would be a bit of a bummer. Still it's nice to finally see some truly toasty temps.

On Saturday the whole family mountain biked into Vail Village from West Vail along the bike path, Gore Creek surging in its banks the whole way. We spun up Vail Mountain a bit, past the fading vestiges of the ski season that ended nearly a month ago in Vail.

It really is an amazing place when you can get in a great ride one day and then hit the slopes the next. Some people combined the two by biking up to the Basin Sunday, skiing a few runs and then hitting the Beach (the front row of the parking lot) for barbecue and beers. We drove.

I tried to get my two-year-old, Rennick, out on skis for the first time, but he was having none of it, content to basically roll around in the mud with all the other Beach-goers.

So my wife and I took shifts and we got in a couple runs with the older two boys and called it a day, even though it was really just a partial one. Still, if I click in, I count it, and 45 days is a month a half in ski boots.

Now, however, it's time to focus on the streams and rivers as they swell with melting snow and on the hiking and mountain biking trails as they thaw and dry out.

Till October anyway, when we do it all over again.

Comment on "Biking, Basin biathlon makes for another great weekend high in the Rockies" using the form below