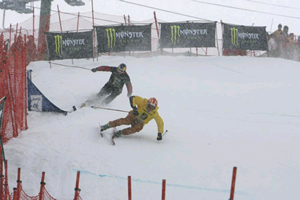 Chris Del Bosco of Eagle-Vail in action on the ski cross World Cup circuit.
Courtesy of
chrisdelbosco.com
Blog Tools
Comments
PermaLink
Vail to Vancouver: Locals take long, twisting road to 2010 Winter Olympics
By David O. Williams
January 21, 2010 — The road from Vail to Vancouver has taken many strange turns for a handful of past and present valley residents bent on fulfilling their Olympic dreams at the 2010 Winter Games in Canada this season.

A few of them may not make it, but a few of them may just turn years of tortuous training and brutal competition into the kind of Olympic glory Vail's Toby Dawson experienced in 2006.

Dawson became the Vail Valley's first homegrown Olympic medalist when he won a bronze in moguls at Sauze d'Oulx, Italy, during the 2006 Torino Winter Olympics. No one took a more twisted path to the Games than Dawson – lost by his mother at a market in South Korea when he was three and adopted by a pair of Vail ski instructors – but a few of the 2010 contenders come close.

For instance, Chris Del Bosco, a top-ranked ski cross racer for Team Canada, grew up in the Vail Valley and made his mark first as an alpine ski racer for Ski and Snowboard Club Vail, then as a professional mountain biker. Due to his dad's Canadian heritage – a scholarship hockey player at the University of Denver – Del Bosco has dual citizenship and will likely chase gold for the host country in February.

"When they added ski cross for the Olympics, Canada was one of the first nations that stepped up and came up with a plan for a national team being that the Olympics are in Vancouver," said Del Bosco. "They thought it was a great opportunity to win some medals." But just how he landed on the talented Canadian squad is a story unto itself.

It seems Canadian ski cross standout Brian Bennett was in Whistler having dinner with Cam Bailey, president of the team, brainstorming what athletes to pursue for the squad. Bennett was in a sling after a nasty crash at the ski cross event at the Winter X Games in Aspen, and the waitress asked him how he got hurt.

When he told her, the waitress said her husband's cousin had just competed in the Winter X ski cross. Turns out that was Del Bosco, and the conversation quickly turned to his dual citizenship. The Eagle-Vail resident soon got a call from Bailey, and the rest could be history.

"I got the call from Cam Bailey and he laid out the program and their objectives, and their objective was to win medals in Vancouver and that was my number one goal, so it was a pretty easy decision," Del Bosco said. "There wasn't anything going on with the U.S. at the time; they didn't have a team put together."

Now the U.S. squad is loaded, and the Olympic team could be made up of former alpine racers and Olympians like Coloradan Casey Puckett and the legendary Daron Rahlves, who has won more downhill World Cup races than any American man but retired after the 2006 Winter Games sans an Olympic medal.

It took Rahlves a while to get used to the format of ski cross, in which four ski racers start simultaneously and compete head-to-head on a banked motocross-style course with jumps and other features, progressing in heats to a climactic, action-packed final round. But once he got it, he got it in a big way, claiming X Games gold last season in Aspen.

"Daron coming over was huge for the sport, because a lot of people thought, 'These guys are a bunch of jokers; anybody can do that that's good at alpine,'" said Del Bosco, adding Rahlves' slow start showed it's a sport of endurance and tactics that will be hugely popular at the 2010 Games, much the way snowboard cross was such a hit in Torino in 2006.

"When you go and ski with a bunch of your buddies, at least for me and my friends, it's like first one down. When you're a little kid it definitely was always a race," said Del Bosco, who continues to train with Ski and Snowboard Club Vail coaches and sparked some controversy over the summer when a start gate he erected for training in Eagle-Vail was challenged by the homeowner's association.

"You just do whatever and try to make it down first. I think [ski cross] appeals more to the general public, whereas alpine you can't tell the difference between where someone lost a tenth of a second or a half a second unless you know what's going on."

Vonn to Vail to Vancouver

Ski and Snowboard Club Vail's Lindsey Vonn knows where to grab extra tenths. She's being doing it like mad the last few seasons, combining tempered aggression with relentless training and a hunger to win that's virtually unmatched among American ski racers now and historically.

Her path to Vancouver passed through Vail in the 1990s, when her parents first began commuting to the valley for a couple of seasons from her home state of Minnesota, then moved full-time to Vail to take advantage of SSCV's coaching and the training opportunities on Vail's Golden Peak.

At the age of 17, Vonn – then Kildow – turned in the best result for an American alpine racer at the 2002 Winter Olympics in Salt Lake City, finishing sixth in the combined event. That remains her best Olympic result after a training crash cost her a podium shot in Torino in 2006, although she did come back to finish in the top 10 in both downhill and super-G after being hospitalized overnight.

Now she knows she needs an Olympic medal to round out a spectacular career that last season saw her eclipse Tamara McKinney as the winningest all-time American woman with 22 World Cup victories and her second straight overall title. And so far this season she's already won six more World Cup races (including all four downhills) and is ninth on the all-time wins list with 28 career victories.

"I'm trying to keep everything as routine as possible and try to take the Olympics as just another World Cup race, and that way it will kind of ease the pressures a little bit and not make it feel like it's something special … because it is," Vonn said in Vail this summer after basically being handed the keys to the city in the form of a fat new sponsorship deal with Vail Resorts and use of a unit at the posh new Arrabelle at Vail Square.

Vonn skis to win every time out, so if in the course of this season she joins Phil Mahre as the only American to win three straight overall titles, no one would be shocked. But after breaking through last season with two "big-event" gold medals at the World Alpine Ski Championships in Val d'Isere, France, she clearly knows what an Olympic medal means in America.

"That's the hard part," Vonn said. "For me, my goal is to just win one. I don't care what color it is. I've never won any Olympic medal, so I will honestly be perfectly happy if I get one bronze medal, and that's the hard part is managing your goals and trying not to pay attention to the goals of everyone else."

McKinney, on hand in Vail during the Vonn celebration over the summer, applauded that attitude and urged Vonn not to get caught up in the five-medal expectations already being thrown around.

"I just have to say that's the best thing I've heard about Olympic participation in a long, long time, because in America and in a lot of countries, people get focused on the one medal and they shouldn't," said McKinney, who never won an Olympic medal, coming as close as fourth in the giant slalom in Sarajevo in 1984.

"You do your job, you do the best you can and Vail will still love you … and just remember that. People kind of make it something and you can make it what you want." McKinney won 18 World Cup races in her career and a world championship gold in the combined in Vail in 1989 before retiring at the age of 26. Vonn turned 25 in October.

Thirty-year-old Sarah Schleper's road to Vancouver – if she makes it – would be one of the most remarkable for any of the athletes at the Games. After taking two seasons off with injuries and to have her young son, Lasse, Schleper has had a solid technical season so far on the circuit, sitting 25th in the slalom rankings and 16th in GS.

If Schleper qualifies for the U.S. Olympic Team (and we'll know for sure Monday), it would be her fourth Games after cracking the top 25 in both Nagano (1998) and Salt Lake (2002). In Torino in 2006, Schleper had her best Olympic result ever when she finished 10th in the slalom, which left her even hungrier to make it back in 2010.

"Of course, the only business I have to finish is an Olympic medal," Schleper said. "It's what I have dreamed of since I was very young. Every other aspect of my life has come together; my husband (Federico Gaxiola) is my prince. He is an amazing father and supporter of ski racing and what I am doing. I am a three-time Olympian, and ultimately that is enough for me to retire as a successful ski career. I am after gold, though."

Like Vonn, whom Schleper has known since she was seven, her road to Vancouver started in Minnesota – where her father Buzz was a ski bum who uprooted and started a ski shop in Vail in the 1970s – but Schleper was born in Colorado and raised her whole life in Vail.

"I feel like I have a lot of support here in the community from the locals and local shops, so in a way I have that advantage, being on the mountain and in the town from birth to a little girl to an Olympian," Schleper said. "A lot of the locals here have seen me grow up and know how happy our family is to be in Vail and to be a part of the community."


1 Comment on "Vail to Vancouver: Locals take long, twisting road to 2010 Winter Olympics"