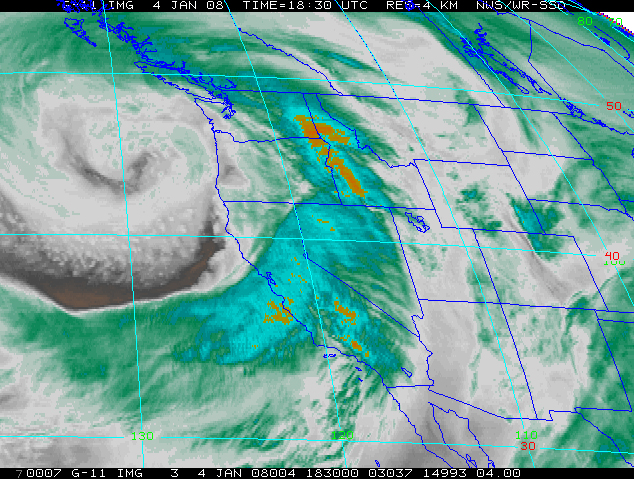 A huge system is moving over California and heading our way.
Satellite image courtesy of the National Oceanic and Atmospheric Administration
noaa.gov
Blog Tools
Comments
PermaLink
Big, ominous storm coming our way
By Reid Griebling
January 4, 2008 — An ominous Friday here in the mountains of Colorado as we await a very large weather system looming on the West Coast.


As of this morning, wind gusts in California have reached 80 mph on the valley floors, knocking out power lines and tree limbs. This substantial low pressure system is in direct line with San Fran. and as local weather watchers know, anytime a system hits San Fran it is in direct line with central Colorado.

We will begin to see light snow late tonight (Fri) with winds increasing through the early morning hours.
Temps should stay mild (comparatively) in the low to mid 20s on the hill and low 30s around town.


This will all change during the day Saturday as the low slowly moves into the Great Basin area bringing with it ample amounts of wind and snow; a lot like we saw last weekend. Slow system is the operative word here as we should hopefully see this system stall as it creeps eastward. Sunday looks the same as snowfall could fall at an inch per hour at times (isolated).


Monday the storm begins to move east with snow showers still persisting in the mountains. Tuesday we will see a break in the weather, however, we could still see some lingering showers. All in all it should be a terrific weekend to ski. Sunday and Monday look like the days to ski with a prediction of morning snow totals tallying between 7 and 12 inches each morning.


Please remember that it will, again, be VERY WINDY both days, temperatures should be in the mid to low teens on the mountains with wind gusts in the 30-40 mph range. Skiing should be great, have fun and be safe.


3 Comments on "Big, ominous storm coming our way"