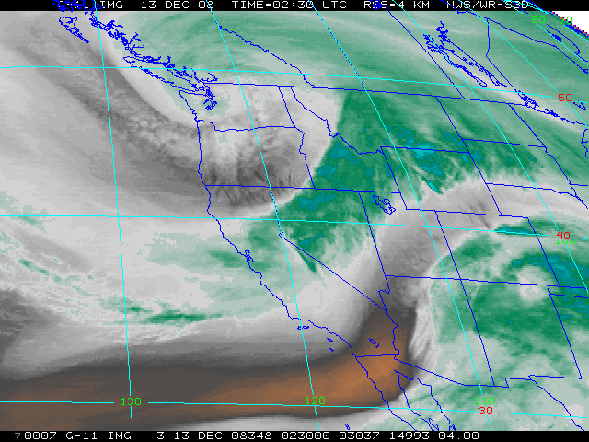 This water vapor satellite image courtesy of noaa.com shows high moisture content in the upper atmosphere from the southwest.
Courtesy noaa.gov
noaa.gov
Blog Tools
Comments
PermaLink
Snow is falling with no signs of stopping
By Reid Griebling
December 13, 2008 — Hooray, Hazzaah, Yippie! On Friday a surprising storm (supposedly quick and weak) blasted the Valley. My on mountain source Paul Rush told me at 4 p.m. that two inches had already fallen and it was still snowing as he was leaving the hill.

I left Minturn at 7 p.m. and there was three inches in the parking lot and snow was still flying, a good sign. And the great news, our first big one of the season is barreling out of the Pacific Northwest, and is on a crash course with Colorado.

Much of the Western Slope of Colorado is under a winter storm warning through Sunday evening. A cold and very organized low pressure system is working its way southwest and bringing with it cold temps and high winds.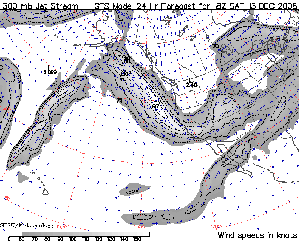 A favorable jet stream will bring unstable air, mixed with high moisture, it is a recipe for heavy snowfall.

This next system will combine with a moist gulf flow and bring with it heavy snow, and winds in the 15-25 mph range. We could also see gusts in the 50 mph range on the ridge tops overnight Saturday and into Sunday. Temps will drop dramatically once the cold front moves through late Saturday night and stay cold through Monday.
Saturday, on mountain temps will range from 15-25 degrees and winds will be in the high teens and low 20s. Snowfall totals Saturday afternoon should range between 4-8 inches. Saturday night the brunt of the storm will hit Vail and Beaver Creek with moderate to heavy snow fall and windy conditions. Sunday snow totals for the morning report should be great, ranging any where from 10-18 inches for Vail and The Beav'.

Finally, this storm will be the first of many to slam the Rockies' this week. Some forecasters are calling for 5-6 feet of snow to fall in Colorado in the next seven days. We can only hope. If you are lucky enough to ski this weekend, enjoy and don't forget to smile.



Comment on "Snow is falling with no signs of stopping" using the form below