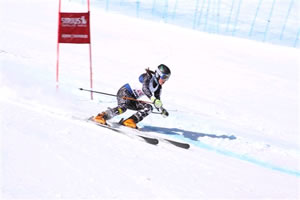 Ski & Snowboard Club Vail racer Abby Ghent, in action Friday in Aspen, just missed the podium in the J2 National Junior Olympics super G.
Courtesy of Brad Ghent
Blog Tools
Comments
PermaLink
Ski & Snowboard Club Vail racers place well in final day of J2 National JO's in Aspen
Taylor Shiffrin Takes 3rd, Abby Ghent 4th in tight super G action
By Ski and Snowboard Club Vail
March 15, 2009 — In a very tight race on the super G track in which the top three spots for the men were separated by only 26-hundredths of a second, Taylor Shiffrin reached the podium for the second time at the J2 National Junior Olympics in Aspen with a third-place finish Friday.

Shiffrin placed second in Thursday's giant slalom. According to the SSCV men's coach Nick Asoian, "After a mistake in the top section of the course, Taylor stayed calm and was the only racer in the men's field to stay in his tuck all the way down the Aztec pitch, the steepest part of the track."

Ski & Snowboard Club Vail's Abby Ghent was part of another very tight race for the women's field. Ghent took fourth Friday, a mere eight-hundredths of a second from a podium result.

On Ghent's result Friday, coach Krissie Poehling said, "Abby had a strong performance. Also, both (SSCV's) Kaytlyn Samuelson and Anne Strong put in sound runs to move up from the back of the pack."

Samuelson moved up an impressive 38 spots from her start number of 46 to finish 8th, and Strong climbed from a start position of 38th to finish 12th.

For the combined overall, which tallied points for the downhill, GS, and slalom, the women's field saw Greta Byrne placing 2nd, Mary Sackbauer 7th, and Strong finishing 8th.

The Rocky/Central Division also walked away with the Regions Cup for the series.


Comment on "Ski & Snowboard Club Vail racers place well in final day of J2 National JO's in Aspen" using the form below