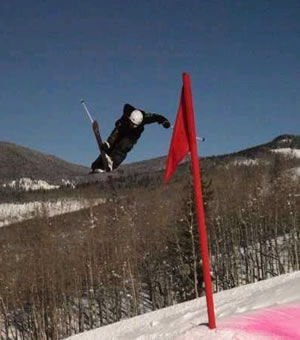 Tanner Coulter of Eagle stomps his signature "Switch 10" during training in Waterville Valley, N.H., last week. Coulter nailed the trick during the J3 Freeride Junior Olympics to claim the slopestyle competition.
Courtesy of Ski & Snowboard Club Vail
Blog Tools
Comments
PermaLink
SSCV's Coulter, Wilhelm, Waring lead charge at J2, J3 freeride, freestyle Junior Olympics
By Ski and Snowboard Club Vail
March 16, 2009 — Ski & Snowboard Club Vail's Tanner Coulter and Michael Wilhelm finished 1-2 in slopestyle March 11-12 in Waterville Valley, N.H., leading a strong charge by SSCV's J3 Freeride Team.

"Tanner's win was very well-deserved," said SSCV Freeride Team coach Dan Anderson. "We expected him to do this well, and it was no surprise."

On Wilhelm's performance, Anderson said, "Michael came from back in the pack to grab second for the J3 group, and we couldn't be more pleased with his result."

When asked how to best describe what the slopestyle competition entails for the freeride athletes, Anderson said that the skiers are hurling themselves off of 50-foot jumps. The goal is for a perfect and balanced takeoff with a solid landing.

"It's really important to gauge your speed before the takeoff so the landing will be correct," Anderson said.

In other words, if athletes take off too slow or fast, they run the risk of going too big or not big enough, which could result in a flat landing.

Coulter stomped his Switch 10 (a trick where the skier takes off going backwards and rotates three times -- or three helicopters -- with a mute grab, which is when skiers put their skis in an X and grab the outside edge.

Also in Waterville Valley, SSCV's Freestyle Team competed in the moguls competition, and in that event Andre Lane placed fourth overall.

"Andre skied out of his mind on his run," said freestyle program director Brian Baker. "He pulled tricks off of the jumps he had little practice with, and he nailed his landings."

In the women's mogul event, Kristi Waring was first in her J2 age group (15- and 16-year-olds), while Heidi Kloser placed sixth in the same group.

Both SSCV's Freestyle and Freeride programs have athletes who will be heading to the nationals in Squaw Valley, Calif., next week.


Comment on "SSCV's Coulter, Wilhelm, Waring lead charge at J2, J3 freeride, freestyle Junior Olympics" using the form below