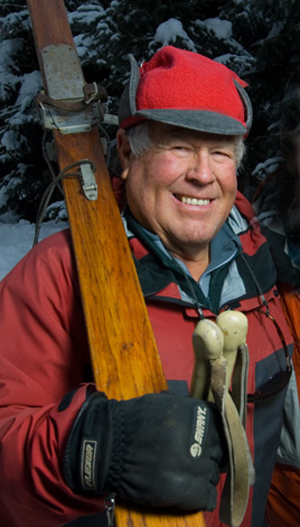 Steve "Louie" Boyd, above, caught his fair share of air on Vail Mountain long before terrain parks came into vogue.
By Dan Davis
trekkerphoto.com
Blog Tools
Comments
PermaLink
Mother Almond ... continued
By "Louie"
January 28, 2008 — continued...
And on another occasion, Mother came up to PHQ and announced that we all should become Karate experts, as a self-defense mechanism in case of a spring riot. Lo and behold he executed a karate chop on one of the hollow-core doors, punching a hole right threw it.
Then turned to me and said, "Louie, you can fix that, can't you?"
To which I replied, "Sorry Mother, I just don't do carpentry work in the wintertime."
The Understories reading guide
Louie was a Vail ski patrolman from 1963-1970, and still lives in the Vail Valley. He skis more than 100 days a year, and rides the whitewater when springtime comes.



His collection of stories from the early days of Vail and Aspen, called "The Understories", are being serialized on realvail.com.



To read The Understories from the beginning, scroll to the bottom of this page and read from his first entry, "The Introduction."
Despite our constant ribbing of Mother (or "granny," as I began calling him), he and I shared in common that we had both patrolled at Aspen, where the jumps and the terrain were a bit more wild than Vail. Mother knew I had been part of the Aspen Highlands patrol which attempted to emulate the great Stein Erickson's inverted-air front flips. These jumping shows grew to become popular crowd pleasers, I suppose because of the fairly commonplace, and spectacular, crashes.
A couple of the patrol, one in particular named Earnst Kapelli, got fairly consistent at sticking the landing; but not Louie.
There was another notable jump in Aspen Highlands we used to jump called the "whoopee" jump. When I came to Vail we made a jump under the Chair 4 cliffs and dubbed it the "whoopee" jump in memory of the old Highlands jump, but in my opinion Vail's whoopee was not nearly so dramatic.
It was during the maintenance of the whoopee that Mother and I began our long-running banter back and forth about the relative merits of sculpting and shaping jumps on Vail Mountain. One of the things I'm sure was totally exasperating to Mother was when I brought out the 100-foot tape measure so that landings could be marked out in 10-foot increments.
In spite of Mother's vehement protests, only one substantial injury comes to mind … when Chuck Malloy approached the waterfall jump with a little too much speed, out-jumped the landing (well over 100 feet), and landed in the flats with a subsequent cracked angle.
Not bothered by this, I built a kicker atop the Chair 4 cliffs.
That's when Mother came to me and said, "Louie, aren't you getting a little too old for this?"
To which I replied: "At least I wasn't always old."

Comment on "Mother Almond ... continued" using the form below