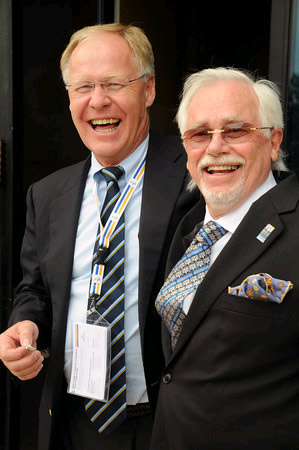 Vail's Erik Borgen (right) laughs with friend and FIS Council Member Sverre Seeberg of Norway, talking about the Beaver Creek/Vail bid for the 2015 FIS Alpine Ski World Championships.
Courtesy of USSA
Blog Tools
Comments
PermaLink
U.S. Ski Team, Beaver Creek/Vail officials deliver 'passionate' presentation for 2015 Worlds
By realvail.com
June 1, 2010 — ANTALYA, Turkey – The U.S. Ski and Snowboard Association together with the Beaver Creek/Vail bid committee took a message of passion, partnership and growing the sport to the International Ski Federation Tuesday in presenting its candidacy for the 2015 FIS Alpine World Ski Championships. Beaver Creek/Vail is one of three sites contending for the prestigious event. The FIS Council will make its decision on Thursday.

"The 2015 World Championships are more than an athletic competition. It's our opportunity to engage the world," said USSA President and CEO Bill Marolt, as he spoke to his FIS Council colleagues, leading off a 12 minute presentation. "It's an opportunity for a partnership – a partnership with the people in this room. It's about all of us joining together, coming together and engaging the world, growing our sport, creating excitement and making a difference in our future."

Beaver Creek/Vail's bid showcased a resort with a long history of success, dating back to the origins of the FIS World Cup in 1967 and continuing as a regular part of the Audi FIS Alpine World Cup. It was also the site of both the 1989 and 1999 World Championships – the last time the event was in North America. Since then, the FIS has selected seven straight European venues.

"Deeply engrained in the culture of our Vail Valley is a passion for hosting major events, especially our annual FIS World Cup," said Beaver Creek and Vail President John Garnsey, a veteran of the 1989 and 1999 Championships. "We will deliver a very successful 2015 World Championships."

Vail resident and Olympic champion Lindsey Vonn sent a personal message on video, talking about her own passion – kids.

"I know that all of the World Cup racers on the tour today would absolutely love to come to Vail for the World Championships in 2015," said Vonn. "But the biggest impact will be on the kids. I remember when I was a sideslipper for the 1999 World Championships in Vail how much I was inspired and motivated to become a World Cup ski racer. I truly think this will make huge impact and kids will be really inspired."

The Beaver Creek/Vail video presentation focused strongly on the Vail Valley's people, especially its kids – with direct video messages showcasing the passion in the hearts of local residents for the event.

"Your decision this week is less about the site you choose and more about the sport you support," said Vail Valley Foundation President Ceil Folz in her address to the FIS Council. "All three sites will do a great job. But by choosing to award the Championships to North America, you spread the word to continents that are hungry for that message."

A major part of the Beaver Creek/Vail bid was focused on a program to "Engage New Worlds," using the Championships to introduce new participants to the sport.

"We come to you with history and a future," she added. "We look for the opportunity to work in partnership to achieve great things. We come with a goal to reach out to new generations and nationalities and welcome them into our sport. We believe in the future of our skiing. And we believe in the World Championships."

The FIS Council also heard presentations from St. Moritz, Switzerland, which hosted the Championships seven years ago in 2003. Also bidding is Cortina d'Ampezzo, Italy, the 1956 Olympic site. Italy last hosted the Championships in 2005 at Bormio.

The FIS Council will make its decision Thursday. A public announcement is planned in Antalya for 7:00 p.m. local time (12:00 p.m. EDT). Over 1,000 delegates from 74 nations are in Turkey for the biennial FIS Congress.


Comment on "U.S. Ski Team, Beaver Creek/Vail officials deliver 'passionate' presentation for 2015 Worlds" using the form below