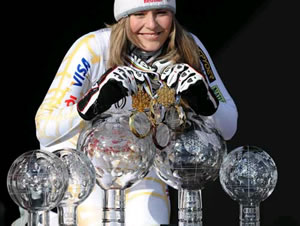 Ski & Snowboard Club Vail's Lindsey Vonn Saturday shows off the five crystal globes she's won on the World Cup circuit the past two seasons.
Courtesy of U.S. Ski Team
Blog Tools
Comments
PermaLink
A look back at the amazing season of Ski & Snowboard Club Vail's Lindsey Vonn
By Doug Haney
March 15, 2009 — ARE, Sweden – Lindsey Vonn labored under the weight of the huge globe of Joska crystal – reflecting the crystal blue skies above the mystical central Swedish mountain of Areskutan.

Soon there were five globes in front of her for photographers – a few borrowed for the occasion. But the titles weren't borrowed, they were hers – five of them in two years.

It was another milestone for American ski racing, much like the scene in Furano when Tamara McKinney won in 1983 and when Picabo Street broke a decade long drought standing proudly with the downhill globe in the town square of Bormio in 1995.

Lindsey wasn't born in 1983. But in 1995 she was an athletic young girl from Buck Hill looking for a hero. Picabo's downhill World Cup globe rocked the American ski racing world. Two years earlier she had medaled in combined at the World Championships – the same event McKinney won in Vail to close out her career in 1989. A year earlier Street took silver in the Olympic downhill in Kvitfjell. But this was a season-long title.

Three years later, Picabo became an Olympic champion. But it was her 1995 crystal globe that really lifted a nation and inspired a generation of ski racers – athletes like Lindsey Vonn.

Picabo had that will to win. Every time she stepped into the downhill start gate you had this sense that she could win. It was powerful. You could see her eyes intensely staring out of her goggles, focused on being the fastest. In 1995 she and Hilary Lindh combined to win all but one downhill (Picabo was second by .02 in Cortina). Picabo, alone, won six and wrapped up the title in Lenzerheide, Switzerland a week before the Finals.

The fiery Sun Valley native was all smiles parading into the town square that evening in Bormio. Fans from Valtellina packed the square as the American flag was raised for the first time since McKinney won the slalom title in 1984. It was an emotional time for the U.S. Ski Team which was ushering in an era of success on the wins of Street, Tommy Moe and Diann Roffe.

Fast forward 14 years – through Topolino and JO titles, thousands of hours of work every year, and the support of legions of family, friends, coaches, volunteers and fans – and it was Lindsey Vonn's turn (again).

Gone from her mind in that moment were the bitterly disheartening fourth place finishes at Worlds in 2005 and the training crash in Torino where she first won the hearts of Americans. Those were the learning experiences that made her strong.

Today, she was a champion - standing on the podium, her hand on her heart, and beaming her trademark smile to the crowd as the national anthem played. Like Picabo, she, too, has the will to win.

Somewhere back in America there's another young boy who was up early this week to watch her win the super G title on UniversalSports.com and a young girl longing to meet her at an autograph session next fall. And there's thousands of aspiring champions who are putting poster of the World Cup champion up on their bedroom walls - just like Lindsey did.

At Tyson Junior Olympic races around the USA this month, there's a bigger bounce in the steps of young athletes as they walk in the footsteps of their U.S. Ski Team hero.

There are plenty of Lindsey Vonn stats to fill an entire page. Those have all been well reported. And her work ethic and goal setting are already legendary.

But the real statistic isn't the number of wins or number of globes she wins. It's the inspiration she conveys to boys and girls across America who now have a hero and are saying to themselves, "hey, I can do that, too."

As she left the Audi FIS World Cup finish line for the final time this year she paused – globes in tow – to sign autographs for young Swedish fans. "Hey, Lindsey, did you see that little girl's face? Don't ever lose that," someone said. She replied, "Don't worry, it's the most important thing I do!"

Tale of the tape

Lindsey Vonn


Height: 5-10
Weight: 160
Birthdate: 10/18/84
Birthplace: St. Paul, MN
Hometown: Vail, CO
Years on Team: 8
Club: Ski and Snowboard Club Vail/Buck Hill
Sponsors: Red Bull, Rossignol, Under Armour, Uvex, Alka-Seltzer, Audi, Vail Resorts

The most successful female skier in U.S. history, two-time Olympian Lindsey Vonn has captured two overall World Cup titles, two World Championship gold medals and owns more World Cup wins than any American woman. But it is her genuine passion for being a positive role model to young skiers that separates her as a true champion.

Career Highlights

2009 Second World Cup overall and downhill titles, (24 years old)
2009 First World Cup super G title for an American woman
2009 World Championship DH, SG gold
2009 Most World Cup wins in a single season for an American (male or female) with nine
2009 Most World Cup podiums for an American woman with career 47th
2008 World Cup overall and downhill champion (23 years old)
2007 World Championship DH, SG silver (22 years old)
2006 Olympic Spirit Award after crashing in DH training then finishing seventh (21 years old)
2005 First World Cup win; five podiums (20 years old)
2004 First U.S. Championships titles, Alyeska, 1st SG, SL (19 years old)
2004 World Junior Championships, 2nd DH, 3rd SG, 3rd GS, 4th SG, 4th CO (19 years old)
2004 First World Cup podium, Cortina DH (19 years old)
2003 World Junior Championships, 2nd DH (18 years old)
2002 World Junior Championships, 6th SG (17 years old)
2002 Olympic Team; best U.S. women's result, sixth in combined (17 years old)
2001 World Junior Championships, 5th SL (16 years old)
2000 First World Cup, Park City (16 years old)
2000 First NorAm Cup win (16 years old)
2000 Named to U.S. Ski Team (15 years old)
2000 First FIS race wins (15 years old)
2000 First World Junior Championship Team, 14th DH (15 years old)
2000 First U.S. Championships, Jackson, 2nd DH (15 years old)
1999 USSA team, Trofeo Topolino SL champion (14 years old)
1998 USSA Junior Olympics J3 SG/GS/CO champion (13 years old)
1998 USSA team, Trofeo Topolino GS silver (13 years old)
1997 USSA team, Whistler Cup GS champion (12 years old)
1997 USSA Junior Olympic J3 SG/CO silver, GS bronze (12 years old)
1996 First USSA Junior Olympics J3 SL silver (11 years old)
1995 Watches as Picabo Street wins the World Cup DH (10 years old)

2009 Season Detail

Nov. 15, 2008 - Vonn makes an incredible save to capture the first World Cup slalom podium of her career with a decisive victory at the opening slalom of the 2009 Audi FIS World Cup season in Levi, Finland. The win vaulted her into the World Cup lead.

Nov. 19, 2008 – Vonn severely bruises her left knee in a super G training crash. It is unknown whether she will be able to race in the only U.S. World Cup stop slated for Thanksgiving weekend in Aspen, CO.

Nov. 26, 2008 – U.S. Ski Team doctors clear Vonn to race in Aspen. Despite nagging pain in her knee, she finishes fourth in both giant slalom and slalom. It was the best giant slalom result of her career.

Dec. 5, 2008 – Vonn wins the season-opening downhill in Lake Louise, Alberta marking her fifth downhill win in five years on the Canadian speed course. She takes honor as the most successful racer in Lake Louise World Cup history prompting media to call it "Lake Lindsey."

Dec. 14, 2008 – Vonn podiums again in slalom, finishing second to best friend Maria Riesch of Germany in Semmering, Austria.

Jan. 17, 2009 – After a month of bad weather canceling downhill races in Lake Louise, Alberta and St. Moritz, Switzerland Vonn wins a super combined (one run of downhill and one run of slalom) in Zauchensee-Altenmarkt, Austria. She made an incredible save in the downhill portion, landing on her hip from 20 feet in the air, to finish the downhill portion and stay in podium contention

Jan. 18, 2009 – Vonn finishes third in the downhill at Altenmarkt-Zauchensee regaining the World Cup overall points lead from Maria Riesch. She would hold the lead for the remainder of the season.

Jan. 24, 2009 – After a three-foot snowstorm cancels two days of downhill training and one downhill race, Vonn finishes second in a downhill to Swiss surprise Dominique Gisin in Cortina, Italy.

Jan. 30, 2009 – Vonn wins her career second slalom, dominated the race from start to finish in Garmisch-Partenkirchen, Germany. The hometown of her best friend and closest challenger Maria Riesch. She begins to pull away in the World Cup overall standings.

Feb. 1, 2009 – Vonn ties U.S. great Tamara McKinney with 18 World Cup wins following a super G victory in Garmisch. The win came just 48 hours before the same event in the FIS Alpine Ski World Championships in Val d'Isere, France.

Feb. 3, 2009 - Fresh from a sweep of two races on the Audi FIS World Cup in Germany, the Vonn charged to her first World Championship title, winning the super G in Val d'Isere, France to open the event.

Feb. 9, 2009 - Vonn stormed to another win at the World Championships winning the downhill to sweep the speed events in Val d'Isere. It was the first U.S. women's downhill title since Hilary Lindh won in 1997.

The Thumb

Following the podium celebration for her downhill victory, Vonn accidentally slices the flexor tendon on her right thumb during a victory celebration. She was handed a champagne bottle with the top broken off and innocently cut her thumb while attempting to spray the crowd. She was given four stitches at the U.S. Ski Team hotel to secure the wound, joined teammates and coaches in a victory toast, then sat in on a half hour teleconference call before having dinner. Ironically, she had one sip of champagne the entire evening.

Feb. 13, 2009 – Following a flight to Innsbruck, Austria to surgically repair the torn tendon, Vonn returned to Val d'Isere and was cleared to compete in the slalom by U.S. Ski Team doctors. The injury did force her to miss the giant slalom.

Feb. 14, 2009 – Despite finishing second in the first run of slalom at World Championships, Vonn crashes on her injured hand in the second run and is disqualified as her best friend Maria Riesch wins the race. She nearly missed course inspection because she miscalculated how long it would take to get dressed in the morning. She was the first to hug Riesch in the finish and spent over an hour after the race signing autographs and taking pictures with fans.

Feb. 20, 2009 - Vonn finished second in the final World Cup super combined, at Taravisio, Italy shelving her run for the American record books one more day. With 18 World Cup wins, one more surpasses Tamara McKinney's total and officially secures Vonn as the greatest female ski racer in American history. She ends the season second in the super combined standings to Anja Paerson of Sweden.

Feb. 21, 2009 – The wait continues as Vonn came within .01 seconds of a milestone 19th World Cup victory finishing second in a downhill to expand her lead in both the overall and downhill points.

Feb. 22, 2009 - It's official, Lindsey Vonn (Vail, CO) is the most successful female ski racer in American history. The 24-year-old double World Champion secured her 19th World Cup victory with a super G win in Tarvisio, surpassing U.S. great Tamara McKinney's previous high mark of 18 established in the 1980s.

It was Vonn's sixth World Cup win of the season and 43rd podium of her young career. She now stands an impressive third for all-time U.S. World Cup wins (male or female) behind Bode Miller (Franconia, NH) with 31 and Phil Mahre with 27.

Feb. 27, 2009 - Vonn is poised to become only the second woman in U.S. history to win back-to-back World Cup downhill titles after tying for third in a tricky downhill at Bansko Bulgaria to take a commanding 118-point lead in the title chase.

Feb. 28, 2009 – As the World Cup went to Bulgaria Vonn added a new line to the U.S. Ski Team record books becoming only the second American in history to win back-to-back World Cup downhill titles. Vonn joins childhood hero and now good friend Picabo Street, who won the season-long title in 1995 and '96, as the only American (male or female) to win back-to-back crystal globes for downhill.

March 1, 2009 - Vonn won her fourth consecutive super G to move within 15 points of the discipline lead behind second place finisher Fabienne Suter of Switzerland with one super G remaining in the season.

March 11, 2009 – Vonn rolled into Are, Sweden and added yet another landmark to an already historic season as she took her 21st career World Cup win in the downhill at the Audi FIS World Cup Finals to clinch the overall title for the second year in a row. It's the first time an American woman has ever won two overall crowns. She also notched her 46th career World Cup podium surpassing Tamara McKinney's previous mark of 45. McKinney retired after the 1989 season at the age of 26. Vonn is 24 and currently has a goal to ski through the 2014 Olympics.

March 12, 2009 - Vonn came through with her fifth super G win in a row to clinch the Audi FIS World Cup super G title during the final SG of the season in Sweden. Vonn, who marked her 22nd career World Cup win with the finish, had won the previous three World Cup super G races of the season as well as World Championships super G to claim her fifth consecutive victory. The win was also Vonn's ninth of the season, a new American record over Phil Mahre's eight season wins in 1982.









Comment on "A look back at the amazing season of Ski & Snowboard Club Vail's Lindsey Vonn" using the form below