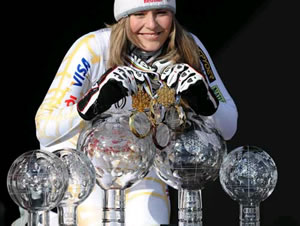 Vail's Lindsey Vonn has been on a massive media and skiing tour as she prepares to race women's alpine at the 2010 Vancouver Olympic Winter Games.
Courtesy U.S. Ski Team
Blog Tools
Comments
PermaLink
Lindsey Vonn continues marathon tour leading up to 2010 Vancouver Olympics
By Doug Haney
October 22, 2009 — Guten Morgen Alpine Fans!

It's less than 48 hours to the start of the 2010 Audi FIS Alpine World Cup season, which offers plenty o' time for me to get you up to speed with everything U.S. Ski Team back logged to last May. Take breaks if needed:

Lindsey Vonn (Vail, CO) has most people wondering if she's a robot.

Seriously. After winning her second straight World Cup overall title, fifth WC globe and two World Champs gold medals, she went to Alaska - signed a million autographs (enough to run the length of the Yukon) and won another U.S. title. This time slalom.

She celebrated with a trip to NYC for TV appearances...went to LA for, well more TV appearances and some special time with NBC...took a trip to Mexico with BFF and Numero Uno competitor Maria Riesch of Germany...hung out in Austria training with Red Bull...spent the month of August in New Zealand testing some new skis...signed some nice sponsorship deals, one of which included a big party in Vail (http://usskiteam.com/alpine/news?storyId=1929) ...went to Chile for September and shredded the DH training slope...departed on a six city tour (LA, Aspen, NYC, Bean Town, Chicago, and Minneapolis) to sign more autographs, toss out a Cubbie first pitch and then packed her bags for Austria. I think somewhere in there she saw a few tennis matches
(http://usskiteam.com/alpine/news?storyId=1865) and took in the Emmys.

Breathe, someone please stop the spins.

She's been in Austria since Oct. 5, signing more autographs, doing more TV shows, training like a mad women and excited to start racing. We're having lunch in a minute...i'll let you know what she orders.

Ted Ligety (Park City, UT) opened up the shiny new Center of Excellence in Park City in early June by testing every piece of exercise and physical therapy equipment known to man (and probably some top secret stuff just invented by Sports Science el jefe Troy Flanagan). His March knee injury didn't last long and Shred was back on snow in New Zealand by August and ripping the downhill boards by September in Chile. Earlier that month he took a trip to NYC to kick Natalie Morales' butt in tennis for the TODAY Show, so the knee must be good. While there he also hung with the NY Times and took in the now infamous Serena Williams match at the U.S. Open.

After quick trip to the Shred Factory (new goggle, sunglass and helmet line is out - go get it kids) in Venice with teammate Jake Zamansky (Aspen, CO), he arrived in Soelden today and thinks a third podium in three tries at Soelden would be a good way to start the season. I agree.

We'll see what sort of bets he's made with his ski technician for this season at the Audi Presser tonight.

Bode Miller (Franconia, NH), that's right Bode Miller, is rolling with the U.S. Ski Team again and having a good time of it too. Following a summer hanging with his daughter, celeb golf tournies, an trip to the Bahamas to nearly win SuperStars again and some chill time in NH lay out his organic garden he's recharged for skiing. It's about time this guy took a break after 13 World Cup seasons rarely missing a start.

His first time back on snow since February was early this month in Saas Fee, Switzerland. Over 20 days on snow later and he's feeling good, skiing well, having fun with the Team and hoping to join the World Cup by Levi in mid Nov. Sorry gang, no start here in Soelden. Good on ya Bode, glad to have you back.

Julia Mancuso (Olympic Valley, CA) is also back and when i say back, i mean her back is healed and feeling good. Jules doesn't sugar coat things and will strait up tell you last season was not so sweet - well, she did http://wcsnblogs.com/skiing/juliamancusoo. She spent two full months in Hawaii working on her health and fitness then killed it at New Zealand and Chile training camps.

Coaches report a Super Jules that's stronger, happier and skiing better than ever before - better than her WC overall title run in '07. She's been hanging in Saas Fee, Switzerland training along side the men's Team and rolled to Soelden earlier this week. She's been on the podium here and dag nab it, she can be up there again.

There's also a full cast of other characters here in Soelden including Tim Jitloff (Reno, NV), Tommy Ford (Bend, OR), Warner Nickerson (Gilford, NH) and Jake Zamansky (Aspen, CO). Plus Resi Stiegler (Jackson Hole, WY), Megan McJames (Park City, UT), Sarah Schleper (Vail, CO) and Jessica Kelley (Starksboro, VT). BUT, i'll get you up to speed on them tomorrow. Call it a cliff hanger of sorts.

World Cup Notes are back...

Onward,

doug


1 Comment on "Lindsey Vonn continues marathon tour leading up to 2010 Vancouver Olympics"