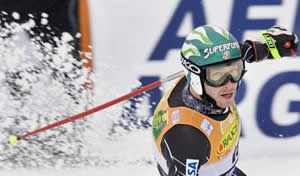 Bode Miller is back on skis for the U.S. Ski Team this season, looking to back up his second in Levi, Finland, last season with a similar result in Sunday's slalom.
Blog Tools
Comments
PermaLink
Miller returns to action for U.S. Ski Team in World Cup slalom in Levi, Finland
By realvail.com
November 14, 2009 — LEVI, Finland – Following solid training blocks in Switzerland, Austria, Germany and now Tarnaby, Sweden, two-time Audi FIS Alpine World Cup overall champion Bode Miller (Franconia, NH) is set to open his World Cup season this weekend along side Soelden podium finisher Ted Ligety (Park City, UT) when World Cup action returns to Levi, Finland.

It will be Miller's first start since the February 2009 Audi FIS Alpine World Championships, yet he enters with momentum from last year's second place finish in Levi, his first slalom podium since December of 2004.

Live timing is available at www.fis-ski.com starting at 4 a.m. ET Sunday with first run action followed by the second run at 7 a.m. ET. Universal Sports will broadcast the race at 10 a.m. ET on their 24-hour TV network and on-demand streaming will be available at www.UniversalSports.com following each run.

Also starting for the U.S. Ski Team are Tim Jitloff (Reno, NV), Jimmy Cochran (Keene, NH) and Nolan Kasper (Warren, VT). It will be the first World Cup start for Burke Mountain's Kasper, who earned the slot by winning an inter squad race held in Saas Fee. Kasper was third in an August slalom in New Zealand behind top World Cup athletes Felix Neureuther of Germany and Matias Hargin of Sweden.

"We have had incredible training blocks all the way back to Saas Fee before Soelden," said men's technical Head Coach Rudi Soulard. "Ted is really strong right now and so is Jit. Bode has been making some good runs and has a good plan for this weekend."

Following Soelden, where Ligety opened the season with a podium for the third consecutive year, the Team trained at Haus im Ennstal, Austria before moving to an indoor facility at Wittenberg, Germany.

"Wittenberg was perfect because the snow is consistent and the guys are able to get in a lot of runs," said Soulard. "It's also good because it's pretty flat so they can work on carrying their speed across the flats, which is what they'll need to do on Sunday."

For the second straight year, the Team is doing their final race prep in Tarnaby, located in the northern region of Sweden, which has similar light conditions to Levi. Daylight hours at this close proximity to Arctic Circle are between late morning and early afternoon, but the Team is able to train at night under the lights in Tarnaby.

"For sure, light is always a factor at Levi and the second run is under the lights, but for slalom you can see everything," said Soulard. "Tarnaby is perfect because it's quiet, the people are very relaxed and we have the entire slope to ourselves. Plus, the slope is injected so it's hard and grippy just like it will be in Levi."

Following Levi, the men return to Colorado for training at Copper Mountain, Vail and Loveland prior to the Audi Birds of Prey Race Week set for Dec. 4-6 in Beaver Creek, CO, the lone men's World Cup stop in the U.S. prior to the February Olympics in Vancouver.


Comment on "Miller returns to action for U.S. Ski Team in World Cup slalom in Levi, Finland" using the form below