The 12th Vail Jam will bring top musicians from the Vail Valley together to raise money for the Colorado Make a Wish Foundation and the Roundup River Ranch.
Blog Tools
Comments
Permalink
By Tom Boyd
March 19, 2010 — Peter Fontanese has been playing music in the Vail Valley for 28 years. If you've ever sipped on a martini with a cool jazz jam filling the room, rocked out on a dancefloor deep in the belly of a slopeside bar, or enjoyed music anywhere, anytime in this Valley, chances are you've benefited from Peter's hard-won music mastery.

He's one of an elite group of musicians who clock in, day after day, night after night, après after après, to keep the beat alive in all the places that matter: from the swishiest chalets to the dankest of dives.

We're a ski town, a long way from major label headquarters, but we still get some pretty good acts coming through town, and in my opinion we've got a core of year-round musical talent that could stack up, pound-for-pound, with just about anywhere else in the States.

Yeah, we're not Memphis, we're not L.A. (thank God), but this is Vail, we don't do anything unless we do it well, and if we help out a charity in the process, all's the better.

That's the idea behind the Vail Jam, which takes on its 12th incarnation March 22. Like a blue moon or a rogue wave, a perfect storm or the complex machinations behind the creation of the Kwisatz Haderach, the 12th Vail Jam is one of those special moments when a myriad of forces come together to create a jaw-droppingly awesome moment in time.

The awesomeness, in this case, is due to the synergy created when all the Valley's talent comes together in one place, toward the end of a long winter, to discharge a hellacious amount of hidden – and not-so-hidden – talent. Hearing Roy Bloomfield play a solo show is one thing, hearing him join up with Donny Z, Larry Dutmer, Don Poff, Brent Gordon, and Fontanese is another thing entire … and that's just the backing band. By the end of the evening, more than 20 talented acts take the stage.

It's a gig that started in 1989, and the "old guard" carried the tradition on until 1999, when things fell off, much to the malaise of local aficionados – after all, it's the one place you can see almost every show in Vail, every rock band, jazz pianist, and guitar man in town, young and old, past and present.

The energy is incredible, and musicians enjoy it just as much as everyone else. That's part of the reason why Fontanese figured it was time to fire up the rockets and re-launch the event, this time with some new names and faces on board. Yes, he did it because the Valley's musicians need unity and creative parlance to grow the power of the local scene – and nothing does that better than one, big, massive, jam – but also because he knew the event could raise money in the meantime.

Fontanese and company put the bands back together in 2008 for the 11th Vail Jam, and Monday night the 12th Vail Jam gets under way.

This time funds raised from the event go to the Make a Wish Foundation of Colorado and the Roundup River Ranch, extremely worthy causes that all Coloradoans should be proud to support. The Make a Wish Foundation, if you're not familiar with it, grants the wishes of children with life-threatening medical conditions and, in the process, brings them hope, love, and joy.

The Roundup River Ranch is part of Paul Newman's "Hole in the Wall" camps, and I have a special bias toward our version, which sits at 6,300 feet alongside the Colorado River. The camp serves children who would otherwise not have the opportunity to have that memorable summer-camp experience, and Roundup needs our community support to keep its special services going.

Besides, the giving is part of the fun. The talented auctioneer Roger Sierens will be coming from Denver to host a live auction, and together with the silent auction more than 100 vacation packages, restaurant deals, and other items will be auctioned off. All of it, including the music, has been donated for the cause.

And what a cause it is … certainly inspiration enough all its own. But the music, too, inspires. The musicians are set free, the audience already warm to the idea that music and the mountains pair together as nicely as fine wine and cheeses. The night builds like a tempest, and there's barely time to register the rockingness of Laughing Bones before the Harry Baxter Band takes the stage, and by the time Rod Powell's done, Don Watson's warming up, and next thing you know Frank "The Professor" Chase is on stage making a triumphant return while simultaneously raising a glass to the lovely Linda Chorney, and by the end everyone decides to rush the stage and perform one, last, glorious jam that is so unspeakably good that it would leave Janis Joplin, James Taylor, Fats Waller and Duke Ellington all weeping with ebullient gratification at the amazingness of the jam!

Or, at least, that's the way it feels to all of us in the room. Tickets are $35 before the event and $40 at the door. For more on the event, or to buy tickets, visit www.roundupriverranch.org or call Peter Fontanese at (970) 949-0785.


Submit a comment on "Music speaks charitably well at 12th Vail Jam"
---
Lindsey Vonn accepts her recognition from Rob Katz in Vancouver during the 2010 Olympic Games.
Photo by Ryan Sullivan
Blog Tools
Comments
Permalink
By Tom Boyd
March 9, 2010 — It was a fairly impressive crowd gathered at the C Restaurant in Vancouver for the celebration of Lindsey Vonn's Olympic performance. Inside Edition, NBC, the Denver Post, and of course the hip-and-internet-savvy realvail.com were there with media from around the world, and Vail luminaries, to toast Vail's bold, bright, beneficent poster girl on her recent, and honorable, achievement.

I was a bit disappointed in the announcement that came later in the night – but not for the reasons you might think. I was hoping Rob Katz would be announcing that Vail Resorts had purchased Whistler. I had been in Vancouver all February covering the Olympics for the Olympic News Service, and had quickly fallen in love with the myriad harbors of Vancouver, it's towering mountains, glass-walled high-rises, congenial people, liberal social philosophies, and even its talented top femme fetal, Neko Case (any NP fans out there?). A Vail property in Canada would have been a ready-made excuse to visit time and again, and I was already cooking up plans for realwhistler.com.

Instead, we learned Vail Resorts would re-name "International" to "Lindsey's," and while Lindsey held up a sign bearing her name, everyone applauded – but not me. I waited a moment, looked at Lindsey, looked at the beaming faces of the Vail power-set of John Garnsey, Ceil Folz, Rob Katz, and Kelly Ladyga. I submerged my desire to spread immediate congratulations, and took a few minutes to think about whether or not this was the right call. 

The verdict?

It was absolutely the right call, and I assured some of those behind the decision that very few, if any, murmurs of dissent would come from Vail.

Protesting against an accolade for Lindsey Vonn, who attained the worldwide dream of millions, who will inspire generations of American women to ski fast and live well, who has been nothing but courteous in all of her dealings, on camera and off, is patently absurd. It would be like protesting puppies, I reasoned, or babies, or mother Theresa. It would be like going on strike against the Red Cross. The woman who became a great speed-event skier at Ski Club Vail, lived for years in our small, tight-knit community, and who takes our name with her wherever she goes, had just brought a Gold Medal home to Vail and anything short of a lifetime of recognition would be ski sacrilege. International made the perfect choice, not just because it's a fairly plain name to begin with, and because of its race history, but because the run is right on the foremost face of Vail Mountain.

Right where everyone can see it.

Which is right where we want Lindsey.

So my old family friend Kerry Donovan is smearing egg on her face as she protests this event, which otherwise would have sailed off smoothly. Whether she likes it or not, and despite weakly-worded disclaimers to the contrary, she is defiling the honor of a Gold medal. She may opine that another run would have been better, but voicing that opinion is a song out of tune for Donovan, a kind of jealous reproach at Lindsey, especially knowing Donovan is an avid, soulful World Cup ski fan.

Intentionally or not, it also comes off as a cheap shot at Vail Resorts. Like many, I often pine for the days when Vail Resorts was privately held. Those days, however, are long gone, and in the modern reality it is always best when our Town Council works with, not against, Vail Resorts. It seems to me that Donovan's protest of this fairly trivial matter of nomenclature is inspired, in part, by a determination to show Vail Resorts that she's not afraid to quibble.

But quibbling it is. There are, without question, times to question VR. However it is wise to remember that VR is the economic engine of the Valley, and that part of their job is to spread the word – worldwide – about Vail. No one can do that better than America's all-time best women's skier, who even now is gathering crowds of thousands around her in Europe.

Fortunately, the overwhelming majority agree with me, and the murmurs of dissent are already drowning in the laudable, and innocent, waves of pride which we all feel when we take our last run of the day, down Lindsey's. It was an honor for me to be there, to shake her hand and congratulate her, and I'll be ringing my Lindsey Vonn cowbell with enthusiasm for many years to come.

1 Comment on "Vail Resorts was right to name ski run Lindsey's, Donovan makes a misstep"

Submit and read more comments on "Vail Resorts was right to name ski run Lindsey's, Donovan makes a misstep" now!
---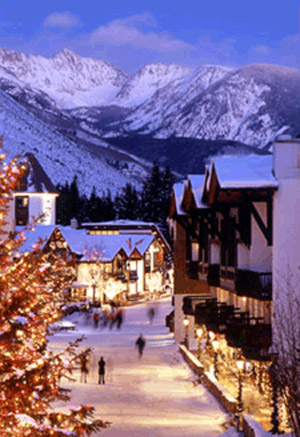 Blog Tools
Comments
Permalink
By Tom Boyd
January 7, 2010 — Nothing beats being bipedal. Hominids have found it suitable for millions of years, and to this day a brisk walk often beats speeding through life in a car. As the Town of Vail seems to know well, sometimes walking is the best way to get to know your surroundings.

A walking tour of Vail begins noon on Friday, Jan. 8, in the Vail Village and LionsHead. Presented by the staff of the Town of Vail Community Development Department, notable details that have shaped Vail's development for the past 40-plus years will be highlighted on the free tour, including the curved shape of Bridge Street, the subtle riddles found on Wall Street, view corridors that preserve the famous postcard images of Vail and the craftsmanship displayed on the exterior of Vail's finest buildings.

The tour lasts approximately 90-minutes. Stops will include visits to Vail's newest redevelopment projects as well as Vail's favorite landmarks to show how master planning has influenced Vail's growth and success.

The tour will depart from the Colorado Ski Museum at the Vail Village parking structure. To RSVP, call Warren Campbell, chief of planning, at 479-2148 or e-mail wcampbell@vailgov.com. Walk ups are welcome, too. The development tour will be offered four more times during the season: 2 p.m. Feb. 19, March 5 and March 25; and noon on April 2.


1 Comment on "Vail walking tour a step in the right direction"

Submit and read more comments on "Vail walking tour a step in the right direction" now!
---
Vail couple Brandon and Kristine Chalk are holding a fundraiser at eTown in Edwards December 16. Proceeds will benefit their effort to climb Mount Everest as well as the Taksindu Social Welfare organization in Nepal.
courtesy Taksindu Social Welfare of Nepal
www.tswnepal.org
Blog Tools
Comments
Permalink
By Tom Boyd
December 7, 2009 — The typical honeymooners may head for a secluded beach, but that's not the case for Brandon and Kristine Chalk of Vail. The two were married this past October, and now they're attempting to become the youngest American couple to summit Mount Everest.

They will be holding a fundraiser at eTown Dec. 16 at 5:30 p.m. to help raise money for their quest, which will cost upwards of $60,000 to complete.

"Not every couple shares the same interests like that, and for us to be able to share a climb of Mount Everest together, it's an experience that will last forever," Brandon said.


Everest fundraister at eTown
What: Brandon and Kristine Chalk attempt to become youngest American couple to climb Everest ... then continue to conquer the Seven Summits.

Where: eTown in Edwards.

When: December 16, 2009 from 5:30 to close.

What else? Apps, dinner, drinks, a slide show, a silent auction, and good company.



To tackle one of the greatest physical challenge known to humankind is one thing, to do it as husband and wife adds a new, and colorful, dynamic. Brandon said the couple, who are in their early 30s, expects to be tested to their limits in many ways.

And while they stand to grow and learn tremendously from the experience, the Chalks will also act as ambassadors of our Valley to the people of Kathmandu, where they are planning to aid in the construction of a new addition to a school for disenfranchised children through a group called Taksindu Social Welfare of Nepal (TSW).
The Deku Primary School in Nepal, where TSW is sponsoring teacher salary payments and is soon hoping to expand and improve the school.

"Presently, we at TSW are expecting Brandon and Kristine to engage on our newest school project in Kathmandu," said TSW President Karma Sherpa, in Nepal. "Our project mainly focuses on for those less fortune children who really need our help to bring some positive change in their lives."

Karma Sherpa called the participation of people like Brandon and Kristine an, "answer to prayer" for the children of the school, 85 percent of whom have migrated from remote portions of Nepal. Some of the children have been orphaned, others have lost their homes and shelter, and others have been dislodged due to natural disaster. The Maoist uprisings in Nepal have created violence and unrest in Nepal over the past decade and more, leaving many children without a safe place to live and learn.

Karma Sherpa, with help from people like Brandon and Kristine, is hoping to give these children a better future.

Beyond building schools, TSW has sponsored women's centers, helped raise money to pay rural teachers, built libraries, and helped clean garbage and trash from trekking trails.

The Dec. 16 fundraiser at eTown will help bring Brandon and Kristine together with Karma Sherpa after their Everest expedition. The event includes a silent auction and slide show, and ten percent of proceeds from the party will be donated to the cause by eTown.

Individuals and corporations can also donate at http://www.brandonandkristine.org/.
For more on the Taksindu Social Welfare organization visit Taksindu Social Welfare of Nepal.


Brandon and Kristine's main sponsor is Juggle.com, an information engine that helps web browsers juggle the world's information.

Submit a comment on "Vail couple to hold fundraiser for Everest climb December 16 at eTown"
---
Read More Blog Entries
Previous
Next
Last
Blog entry 5 through 8 of 260 total entries
Bloggers Profile and Information