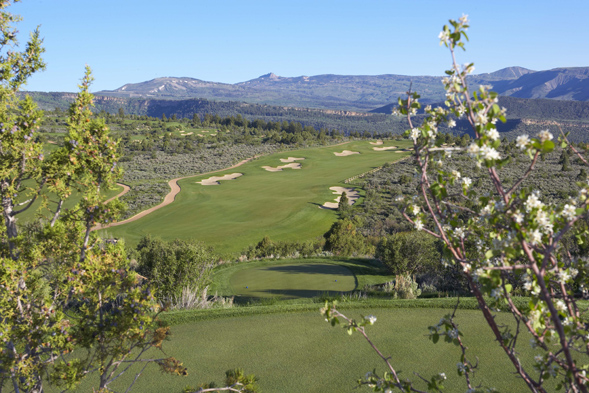 Views like this one, at Wolcott's Red Sky Ranch, give golfers the feeling they can hit the ball a mile. But exactly how much does the altitude effect the game?
Photo by Jack Affleck/Vail Resorts
Blog Tools
Comments
PermaLink
Vail golf: How much will the altitude change your game?
By Reid Griebling
July 2, 2008 — Independence Day for our great country approaches, the Eagle Valley Jet Center fills with private planes, and our second homeowners begin their annual summer vacations in the great Rocky Mountains. Visitors from all over come to town, many of them toting golf clubs, hiking boots and fishing rods, excitedly waiting for more Vail memories to be made.

Over the years, the question I've heard most from golfers traveling from sea level was how much the altitude changed the way the ball flies. It's a valid question for golfers who hit the club face on a regular basis.

There are many opinions on the market about high altitude golf, some say there is little change in the ball flight, others sway directly opposite. So I, too, have an opinion on the whole altitude situation. When playing golf at altitude be aware that it will take a few holes of golf to really get yardages exact, in fact it may take a round or two.

My advice may seem simple but I'm the type of golfer that tries not to over-think things too much. Golfers will see more of a change from clubs that hit the ball higher: 8, 9, and wedges. In fact you may see a 15-17 percent difference.

As you work your way down to four and five irons, you may see very little change. A simple rule of thumb goes like this: if you hit your seven iron 150 yards at sea level, club down to an 8 iron in the mountains. Use this rule through your wedges – the longer irons and hybrid clubs should stay just about the same, although you may have to feel those clubs out.

You may ask: "What about my driver?"

Well, you're in luck.

The driver at altitude is your best friend. Assume that you will hit drives at least 5-8 yards farther than you would at sea level, and in some cases, with elevated tees and the like, you may gain 30 yards.

One last hint: when putting on the green, almost always, the green breaks toward the river. Until next time, keep it in the short grass, and happy Fourth of July!


Comment on "Vail golf: How much will the altitude change your game?" using the form below