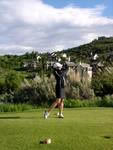 Blog Tools
Comments
PermaLink
Short Course at Cordillera an affordable, convenient, scenic golf option in the Vail Valley
By Reid Griebling
June 13, 2009 — Tucked away on the mesas of southwest Edwards lies a little golf gem rarely used by its owners. The Short Course at Cordillera is nestled atop of a large ridge that gives golfers an amazing panoramic view of the Vail Valley.

One of four courses belonging to the membership of Cordillera, the Short Course is not your typical par 3 course. Designed by short game guru Dave Pelz in 1997, the Short Course boasts nine of the most elegant short holes you'll find anywhere.

With elevated tee boxes, yardages range from 103 yards to 200 yards from the gold tees, and 57 to 103 from the red tees. Golf holes will test every part of your short game while giving you views of New York Mountain to the east and Castle Peak to the west.

Only minutes from Edwards, the Short Course is open to the public with greens fees at $65 for eighteen holes. The best part is that the Short Course is virtually empty during the work week, making it a great place to sneak in a quick 18 holes under an hour and half. And Grouse on the Green restaurant provides an Irish-style atmosphere, with Guinness and Harp beers on tap.

A great place for beginners to learn the game, the Short Course is less intimidating than most 18-hole golf courses. For veteran players, the Short Course is a great place to fine tune the wedge game, with the blue tees (Pelz tees) set up with awkward downhill, uphill, and side hill lies.

Always in great condition, the Short Course at Cordillera provides one more golfing option in the Vail Valley at a reasonable price and a guaranteed time saver for those with the clock on their mind.

To reach the Cordillera Short Course call (970) 926-5550 or visit cordillera-vail.com.

See you on the lynx.


Comment on "Short Course at Cordillera an affordable, convenient, scenic golf option in the Vail Valley" using the form below