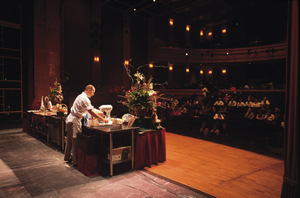 A master chef plays to the crowd at the Vilar Performing Arts Center in Beaver Creek.
Courtesy of Beaver Creek Resort Company
www.vilarpac.org
Blog Tools
Comments
PermaLink
Some events you just have to make time for
Bon Appetit Culinary and Wine Focus trains a gastronomic spotlight on Beaver Creek
By Jill Alfond
January 31, 2008 — Just as it's easy after years of living here to become jaded about the incredible scenery we drive through every day, the same can be said of the amazing events that pass through the Valley - especially in the winter. My life is so hectic I usually just eschew everything except the basic must-do's (getting kids to school remotely on time, and, of course, Street Beat).


So when I heard about the Bon Appetit Culinary and Wine Focus in Beaver Creek, which starts Thursday, Jan. 31, my first inclination was, "I'm too busy and there is nowhere to park up there." End of discussion. Then I actually read the event schedule and realized this is one of the true perks of living here; we have things like this right in our backyard. So I will be traveling up the big hill (and I will never tell you where my secret parking spot is) and hope you will too.


The entire event takes place from Thursday, Jan. 31, to Saturday, Feb. 2, and will bring in 14 international and 13 Beaver Creek chefs, including some heavy hitters such as Ming Tsai of Blue Ginger and Marisa Churchill (her job title is Executive Pastry Chef at Yoshi's, but you probably know and love her from season two of "Top Chef"), along with Richard Sandoval, the owner/chef of Modern Mexican Restaurants (Tamayo in Denver is one of them).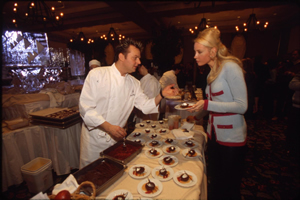 The Bon Appetit Culinary and Wine Focus is an interactive and affordable event that brings some of the best local and national chefs together at Beaver Creek this weekend.

Thursday's highlights include "Food, Wine, and Fashion of Florence," starting at 6 p.m. at the Vilar Performing Arts Center. Tickets are only $30 and include all you can eat and drink, along with a runway fashion show.


Friday night, the Vilar Center will be home to the Master Chef Challenge, which should be pretty fun to watch. The chefs will be competing head-to-head with surprise ingredients and given 20 minutes to create their dishes. Just like Iron Chef … only local, and just $35 to attend (including drinks and eats).


Saturday will close out the event in high style with a celebrity ski race and luncheon, a spirits seminar and a grand tasting in the evening. Tickets for all these events are still available either by calling the Vilar Center at (970) 845-TIXS or by going to www.bonappetitfocus.com.

Comment on "Some events you just have to make time for" using the form below