Jill's Thrills
A Vail Social Diva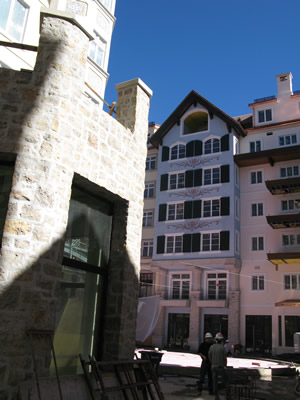 Arrabellagio? You be the judge. Vail Resorts went to great lengths to capture a Euro-tinged flavor for its new hotel, but the blogger contends they created Tyrolean World.
By David O. Williams
Blog Tools
Comments
Permalink
A little slice of Vegas/Disney without ever leaving the Valley
By Jill Alfond
March 7, 2008 — It's taken a long while (like nearly three weeks), but I finally feel ready to weigh in on the new and improved Lionshead, specifically the $250 million Arrabellagio (aka Arrabelle at Vail Square).


For the most part I feel conflicted and confused. Do I like how it looks? Not on your life (I think that the nearby Lifthouse nailed it with its chic little facelift, though). However, as a former resident of the space the Arrabelle now proudly occupies - the filthy, leaky, security-challenged Sunbird Lodge (former scene of Vail Associates' employees enjoying cheap rent and close proximity to the Sundance watering hole) - I have to conclude that as much as, aesthetically, I don't like the candy-colored, neo-Disney/Las Vegas exterior stylings of the Arrabelle, I absolutely LOVE what is stands for.


To me, it stands for progress, and improvement—and it is the sole reason that a trip to Lionshead now feels like a vacation instead of a trip back in time. I still heart Bart and Yeti's, Montauk, and Billy's Island Grill, and will continue to frequent them as much as possible (seriously, the garlic fries at Montauk - simply delish), but crossing the threshold of Vail's New Dawn now allows me that "out-of-town feeling" that was formerly only obtained by, at minimum, a trip to Denver.

And if I am expeditious, I can still enjoy the mini vacation without spending a dime on parking. I have done it: an amazing slopeside lunch at Centre V (order the pommes frites but bring the plastic because they're not cheap), a quick trip to cure my Patagucci jones and a swing through Performance Sports (while outside the Arrabubble, Performance still maintains one of the town's most carefully edited selection of ski clothing).


It wouldn't be a true getaway without shopping for things I can't afford, though: I came! I saw! I conquered! I went into a new store (Avalon) and tried on a beautiful coat! It was $1,800! I put it back! And when I was paying for my cute new mittens at the Quicksilver/ Roxy store, the adorable émigré working there told me to enjoy the rest of my trip, thereby giving me back my vacation feeling.


There is much more I didn't get to experience: it's a mystery as to when the ice skating will be available, the Rimini Gelato looks amazing (I was too full from Centre V's heavenly chocolate mousse), and the Vail Chophouse had a deck full of people enjoying the sunny day, which looked pretty fun to me.


I am already busy planning my next vacation here … and I am so thankful that neither the TSA nor United Airlines will be part of making it happen.



4 Comments on "Sizing up the new 'Arrabellagio'"

Submit and read more comments on "Sizing up the new 'Arrabellagio'" now!
---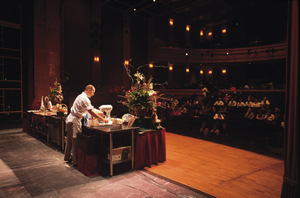 A master chef plays to the crowd at the Vilar Performing Arts Center in Beaver Creek.
Courtesy of Beaver Creek Resort Company
www.vilarpac.org
Blog Tools
Comments
Permalink
Bon Appetit Culinary and Wine Focus trains a gastronomic spotlight on Beaver Creek
By Jill Alfond
January 31, 2008 — Just as it's easy after years of living here to become jaded about the incredible scenery we drive through every day, the same can be said of the amazing events that pass through the Valley - especially in the winter. My life is so hectic I usually just eschew everything except the basic must-do's (getting kids to school remotely on time, and, of course, Street Beat).


So when I heard about the Bon Appetit Culinary and Wine Focus in Beaver Creek, which starts Thursday, Jan. 31, my first inclination was, "I'm too busy and there is nowhere to park up there." End of discussion. Then I actually read the event schedule and realized this is one of the true perks of living here; we have things like this right in our backyard. So I will be traveling up the big hill (and I will never tell you where my secret parking spot is) and hope you will too.


The entire event takes place from Thursday, Jan. 31, to Saturday, Feb. 2, and will bring in 14 international and 13 Beaver Creek chefs, including some heavy hitters such as Ming Tsai of Blue Ginger and Marisa Churchill (her job title is Executive Pastry Chef at Yoshi's, but you probably know and love her from season two of "Top Chef"), along with Richard Sandoval, the owner/chef of Modern Mexican Restaurants (Tamayo in Denver is one of them).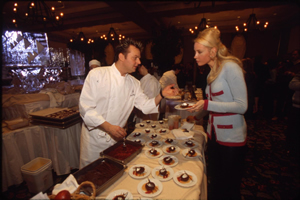 The Bon Appetit Culinary and Wine Focus is an interactive and affordable event that brings some of the best local and national chefs together at Beaver Creek this weekend.

Thursday's highlights include "Food, Wine, and Fashion of Florence," starting at 6 p.m. at the Vilar Performing Arts Center. Tickets are only $30 and include all you can eat and drink, along with a runway fashion show.


Friday night, the Vilar Center will be home to the Master Chef Challenge, which should be pretty fun to watch. The chefs will be competing head-to-head with surprise ingredients and given 20 minutes to create their dishes. Just like Iron Chef … only local, and just $35 to attend (including drinks and eats).


Saturday will close out the event in high style with a celebrity ski race and luncheon, a spirits seminar and a grand tasting in the evening. Tickets for all these events are still available either by calling the Vilar Center at (970) 845-TIXS or by going to www.bonappetitfocus.com.

Submit a comment on "Some events you just have to make time for"
---
Read More Blog Entries

Blog entry 1 through 2 of 2 total entries
Bloggers Profile and Information