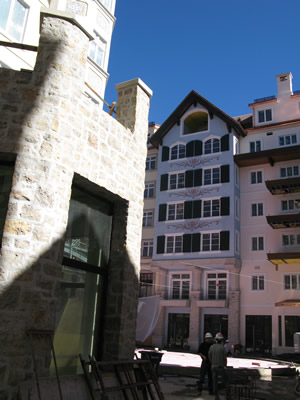 Arrabellagio? You be the judge. Vail Resorts went to great lengths to capture a Euro-tinged flavor for its new hotel, but the blogger contends they created Tyrolean World.
By David O. Williams
Blog Tools
Comments
PermaLink
Sizing up the new 'Arrabellagio'
A little slice of Vegas/Disney without ever leaving the Valley
By Jill Alfond
March 7, 2008 — It's taken a long while (like nearly three weeks), but I finally feel ready to weigh in on the new and improved Lionshead, specifically the $250 million Arrabellagio (aka Arrabelle at Vail Square).


For the most part I feel conflicted and confused. Do I like how it looks? Not on your life (I think that the nearby Lifthouse nailed it with its chic little facelift, though). However, as a former resident of the space the Arrabelle now proudly occupies - the filthy, leaky, security-challenged Sunbird Lodge (former scene of Vail Associates' employees enjoying cheap rent and close proximity to the Sundance watering hole) - I have to conclude that as much as, aesthetically, I don't like the candy-colored, neo-Disney/Las Vegas exterior stylings of the Arrabelle, I absolutely LOVE what is stands for.


To me, it stands for progress, and improvement—and it is the sole reason that a trip to Lionshead now feels like a vacation instead of a trip back in time. I still heart Bart and Yeti's, Montauk, and Billy's Island Grill, and will continue to frequent them as much as possible (seriously, the garlic fries at Montauk - simply delish), but crossing the threshold of Vail's New Dawn now allows me that "out-of-town feeling" that was formerly only obtained by, at minimum, a trip to Denver.

And if I am expeditious, I can still enjoy the mini vacation without spending a dime on parking. I have done it: an amazing slopeside lunch at Centre V (order the pommes frites but bring the plastic because they're not cheap), a quick trip to cure my Patagucci jones and a swing through Performance Sports (while outside the Arrabubble, Performance still maintains one of the town's most carefully edited selection of ski clothing).


It wouldn't be a true getaway without shopping for things I can't afford, though: I came! I saw! I conquered! I went into a new store (Avalon) and tried on a beautiful coat! It was $1,800! I put it back! And when I was paying for my cute new mittens at the Quicksilver/ Roxy store, the adorable émigré working there told me to enjoy the rest of my trip, thereby giving me back my vacation feeling.


There is much more I didn't get to experience: it's a mystery as to when the ice skating will be available, the Rimini Gelato looks amazing (I was too full from Centre V's heavenly chocolate mousse), and the Vail Chophouse had a deck full of people enjoying the sunny day, which looked pretty fun to me.


I am already busy planning my next vacation here … and I am so thankful that neither the TSA nor United Airlines will be part of making it happen.



4 Comments on "Sizing up the new 'Arrabellagio'"