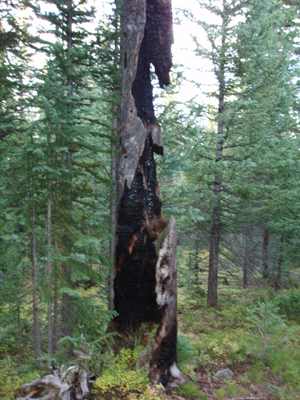 On a hike this September, before the snows came, I relaxed for a snooze near this burned and mangled, long-dead tree.

If a tree falls in the forest, can it be deadly?
Freak accident results in death of Boulder man
By Tom Boyd
December 6, 2007 — The Sioux once called December the ďMoon of the Popping Trees,Ē because the seasonís dryness and winds caused old trees to creak and pop, sometimes to fall. On hikes and hunts Iíve looked toward the trees on blustery days, wondering if one might fall my way, yet the chances are so slim, so improbable, that I was shocked to read in this morningís Rocky Mountain News that such a thing has happened, with fatal results.


Avid hiker Bill Hudson is dead, killed by a tree which fell on him while hiking in Rocky Mountain National Park with his friend, Carl Cox. Hudson was 68.


To accurately calculate the chances of a tree falling on a man, and killing him, is beyond the skill of man, but there is no doubt the numbers must be astronomical. Still, it doesnít keep me from getting a bit nervous, from time to time, when Iím out in a wilderness full of swirling wind.


This past September, for example, I was up high on a ridge near the Holy Cross wilderness, hiking all through the day, and decided to stop for lunch and a snooze. I chose my little nook in the woods because it offered a pie-shaped slice of sunshine, shelter from the gusty winds, and a bit of soft ground free of rocks.


It also offered something else. Before I kicked back for naptime, I took a look around at the swirling stand of mature lodgepoles which surrounded me. Creaking and popping, it occurred to me that it was possible, if improbable, that one of the trees could come crashing down and smash me like a hammer to a nail. So I napped in a nook between a boulder and an already-fallen log so that, if one of the dead standing should decide to lay down, I wouldnít bear the brunt of the burden.


Cox told the News that he heard only one, sharp, crack and suddenly the tree, considered to be dead for about 15 years, cracked in two and came crashing down, hurtling Hudson backward onto a rock. He died instantly.


Iíve been thinking about this all day, about Hudson, about how the wilderness is full of dangers Ö rock slides, avalanches, old mine shafts, wild animals, floods, freezing cold, unbearable heat Ö the list goes onward and onward forever. And while the danger of being outside may be enough to discourage many from even partaking in what the wilderness has to offer, I must say that retreating from the dangers of being outside is a foolish choice.


In the moments before his death, Hudson walked among silent snow, through a stand of fresh-scented pines, and the only noise was the sound of his boots, his companion's boots, and of course the gentle creaking of the trees. To him, a man who loved to hike, it must have seemed a lullaby of sorts. I would go so far as to say that Hudson might have felt as if he were strolling through an Earthly heaven.


And then, an instant later, he was gone. No long, drawn-out, terminal illness. No hospital beds. No pricks with needles. No long, suffering nights, no pain killers, no detritus of body and mind. Just a walk through the woods and then: Itís over.


Sixty-eight years, a good run.


Now itís over.


And I have been thinking to myself: Hudson must be very blessed.


I should hope to be so lucky.


Comment on "If a tree falls in the forest, can it be deadly?" using the form below