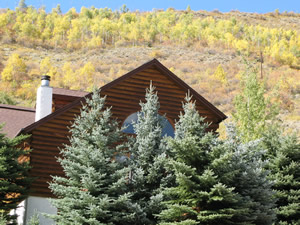 Thomas Wolfe was wrong: you can go home again
By David O. Williams
December 11, 2007 — Depending on who you talk to, I'm either Michael Landon in Little House on the Prairie or Harrison Ford in The Mosquito Coast.


Alternately a stalwart father figure tending my flock in America's high-altitude hinterlands or a dogmatic and maniacal fantasist bent on destroying my family through the feverish pursuit of my own twisted dreams of skiing and living the good life.


All I did to spark this debate was pack up my wife and three boys and move to West Vail this summer. Who would have thought such a seemingly benign move could possibly prompt so much pejorative passion and plentiful praise from deeply divided family and friends?


Just as there is only one way to move on a Vail Mountain powder day - the inevitable eastward elk migration toward Two Elk restaurant - some say it's unnatural to fight the westward ho! resettlement of our fair valley with its inexorable pursuit of greener pastures, more yard space and a bigger garage.


Half the house for twice the money is what going against the grain (and the American Dream) gets you, we were told. It's madness to eschew a brand-new, 3,000-square-foot ranch style down valley in favor of an A-frame in Vail built in the 60s by a moonlighting ski instructor happily hammering away on hallucinogens.


Swim against the stream like genetically stubborn sockeye, we were cautioned, and you'll be eaten by a bear – or at least a bear market.


And within two weeks of our move, as an almost I-told-you-so omen, there stood a 250-pound black bruin in our driveway, quizzically eyeing us the way some of our friends have: "What the hell were you people thinking?" he seemed to say before shambling up into the national forest.


Fully four-fifths of Vail's homes are owned by folks who spend most of the year elsewhere. Its only school – Red Sandstone Elementary – has plummeted from 500 students to around 200 over the past few years. Vail is a resort. Not a place you move to with young kids. But a place you move away from, gleefully counting your cash on the way out of town.


Still others were in awe of our particular brand of insanity, our snatching of one of the last risky loans before the subprime bubble burst and our willingness to gamble all of our accumulated equity over the past decade on a ghost town surrounded by a dying forest and 32 ski lifts.


"You're a hero," I was told by one East Vail resident who clings tenaciously to a small condo with his wife and two kids and all the accessories they come with. But there's nothing heroic about our escape from the ski-burbia of Singletree in Edwards last July. It was simply a homecoming. Something that had to be done.


My wife and I met in Vail. We married in Vail. We had three sons in Vail. We started two companies in Vail. It's where we belong. And there's a spirit of adventure here and therefore a community bond that lives on even into the town's fifth decade of existence.


Nothing could have driven that home with more force than our neighborhood barbeque in West Vail in August, where familiar faces knowingly acknowledged our special form of financial lunacy and welcomed us back like pilgrims wandering the desert the past 12 years.


True pioneers, they all risked a lot more to come here in the 60s and early 70s, so how big a gamble can moving back to Vail be when the equivalent of the gross domestic product of Fiji is being pumped into redevelopment of the town over the next 10 years?


Baby boomers and 9/11 refugees from both coasts are retiring in droves and looking for lifestyle investments, aka a home in the hills, and last time I checked, they're not making any more Vail Mountains.


This column originally ran as the Last Call column in the 2007 holiday issue of Vail Beaver Creek Magazine. Go to www.vailbeavercreekmag.com.


Comment on "Thomas Wolfe was wrong: you can go home again" using the form below