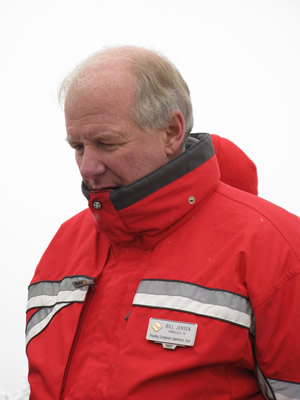 Jensen will be missed, but all is not lost
Revamped management team comes with community ties, veteran experience
By David O. Williams
January 9, 2008 — There will no doubt be a lot of hand wringing and gnashing of teeth in Vail over the loss to ski-company rival Intrawest of Bill Jensen, president of Vail Resortsí Mountain Division and chief operating officer of Vail Mountain.

Jensen in June will assume the duties of CEO of Intrawest, which owns Whistler/Blackcomb in British Columbia, Canada, and Copper Mountain in Colorado, and also manages Winter Park ski area for the city of Denver.

And there should be some concern. Jensen is the quintessential ski executive. He has his eye on the entire ski resort/vacation experience, as well as the corporate bottom line, but also cares deeply about the sport he still indulges in as much as possible and about the communities that make the resorts what they are.

He and his wife, Cheryl, have served on countless charitable boards and given enormous amounts of personal time to critical causes both in and out of the ski industry. He has been the friendly face of Vail Resorts here in Vail after the departure of the companyís headquarters to suburban Broomfield near Denver a couple of years ago.

My own experience with Bill as a journalist covering sometimes sticky industry issues has always been a totally positive and professional one. Heís a straight shooter who never dodged the tough questions and always understood the value of maintaining solid relations with the media.

Jensen would nudge you in another direction if you were off-base on a story, dispassionately correct you if you got something wrong, and at the end of an interview check to see how many ski days you had in (he always had more).

We should be saddened Bill and Cheryl are moving on, but there are signs all is not lost. The ski company seems to be making genuine strides toward some form of community outreach in the wake of the Broomfield move and recent rifts with the town over affordable housing.

There have been times in the last year or so when it felt as if we were backsliding to the bad old days when the company first went public and Adam Aron was everyoneís favorite fat-cat Wall Street whipping boy who rode in amidst eco-terrorist arson fires and protesters chaining themselves to pine trees.

But Adam saw the light, spent more and more time in town, reached out to the community, mended a few fences and then rode off into the sunset. New CEO Rob Katz is increasingly visible in town, dropping his kids at Devo or pleading his case to the town council.

And the team heís assembled to fill Jensenís sizeable void in leadership is a good one. John Garnsey, who replaces Jensen as executive vice president of the companyís Mountain Division while remaining chief operating officer of Beaver Creek and adding oversight of Vail, is cast from the same mold. He rose through the ranks and has the same personal touch and community-first focus.

Blaise Carrig, who joins Garnsey as executive vice president of the Mountain Division while remaining COO of VRís Heavenly Mountain Resort in California and adding oversight of Keystone and Breckenridge, seems to be another ski industry veteran who cares deeply about the sport. I met him on a junket to Heavenly a few years back and liked what I saw.

Meanwhile, Chris Jarnot, who grew up in the Vail Valley and has headed up the companyís corporate sales and marketing from the Broomfield HQ, will be headed back to the valley to handle the day-to-day management of Vail as its new COO.

Jarnot is a good guy who loves this valley and will have community interests at heart in handing the daily operation of the mountain we all love. Iím confident in that.

Stock price and quarterly profits will always be paramount for a publicly traded company, but at least by putting longtime ski execs with strong community ties in positions of power, Katz is showing he knows how important is to keep the natives from getting too restless.

Jensen, in the meantime, gets to take over the helm of a somewhat rudderless company the last couple of years Ė one thatís poised to host the 2010 Winter Olympics at its flagship mountain of Whistler/Blackcomb.

If anyone knows how to capitalize on the marketing bounce for the entire ski industry in North America, itís Jensen, who has actively guided ski industry trade groups and tourism boards throughout his tenure at Vail.

Bill will be missed, but capable people are stepping into the void locally, and his move to Intrawest will have positive ripple effects for the entire industry.


Comment on "Jensen will be missed, but all is not lost" using the form below