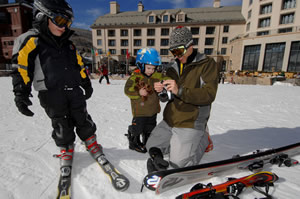 Teaching kids defensive skiing is critical at all times of the year, not just skier safety week.

Giving more than just lip service to skier safety week
By David O. Williams
January 17, 2008 — It seems like every ski season a case crops up - usually at one of my home mountains of Vail or Beaver Creek - that glaringly underscores the need to teach kids slope awareness, respect for other snow riders and the fact that adults often act worse than children on the mountain.

This season's mindbender is the case of 8-year-old Scott Swimm, or Eagle, who last season when he was 7 skied into David Pfahler, 60, of Allentown, Pa., prompting Pfahler to sue Scott and his father, Robb, for medical expenses, lost vacation and work time.

Pfahler says he was hit hard enough that he wound up with a torn rotator cuff and damage to his clavicle. Robb Swimm says his son barely tapped Pfahler's boots at a very low rate of speed.

Regardless of who's telling the truth, the case should not have wound up in court. Litigation - the bane of the American ski industry – keeps chipping away at the fun and freedom of the sport. Judges should toss frivolous cases like this one out, and anyone with inadequate health insurance should not be skiing.

Tips for skiing safely with kids
• Observe NSAA (National Ski Areas Association) National Safety Awareness Week (Jan. 19-25) in a meaningful way, by talking to your kids, whatever their age, about the basics of slope awareness and then practicing those basics yourself.

• Teach slope awareness the first time your kids get on skis. Tell them to constantly look around them on the mountain and be aware of other snow riders and obstacles on the slopes. And insist that your ski instructors pound the points home.

• Ski behind your kids in high-traffic areas, especially choke points where trails converge. Other snow riders can see and avoid you better than your low-profile kids.

• Outfit your kids in bright colors. Red or orange helmets and jackets help other skiers spot and avoid your kids on the mountain.

• Preach the mantra of "control, control, control." Kids need to learn early on to ski so that they can safely stop or avoid other snow riders and obstacles. That way skier safety will become ingrained when they're teenagers in the terrain park.

That said, I've been on both ends of this equation. Just this season I was nearly struck by a young snowboarder in the gondola maze at Vail. He came in hot to impress his friends, showing utter disregard for me or my 4-year-old son skiing next to me.

I've also been dismayed by my own 7-year-old son's lack of awareness on the slopes, watching him cut across a catwalk right in front of another skier without evening looking up. We had a long talk on the chairlift ride up about watching for other skiers even if they're uphill.

Technically, under the Colorado Skier Safety Act, the overtaking skier or snowboarder must be in enough control to be able to avoid snow riders below them or ahead of them on the trail, so if Scott Swimm hit David Pfahler from behind, the youngster was in the wrong. But that calls for a lecture, not a lawsuit.

The slopes are now apparently the purview of extremists, kids with Jackass Generation disregard for human life and limb (like the one who almost hit me), and adults who freak out and go utterly ballistic if someone even comes near them on the hill – threatening physical violence, lawsuits or both.

Last season a 22-year-old snowboarder collided with an 8-year-old girl at Vail and fled the scene after being punched by the girl's father. The father was charged with assault and the snowboarder pled guilty to harassment.

As more and more people travel at higher rates of speed on better and better equipment at increasingly congested mountains, the only way to reverse these trends is to make slope awareness – defensive skiing, if you will – a much larger part of ski and snowboard instruction. Kids will get it if the basic precepts of courtesy and caution are drilled into them at an early age.

And the ski resorts need to be much more aggressive in policing the major choke points on the mountain. Understaffed ski patrollers can't be everywhere, so ski areas need to put even more Yellow Jackets and other personnel in the position to crack down on reckless skiers and snowboarders.

The consequences of not pounding home the concept of controlled skiing and maintaining safe buffer zones can be tragic. In late December and early January a 15-year-old boy and an 11-year-old boy – both wearing helmets – lost control and struck trees at Wolf Creek and Breckenridge respectively. They easily could have hit other skiers, and perhaps a little more instruction and oversight could have saved both their young lives.

If the resorts don't take the initiative, the government may be forced to take a much more active role, with sheriff's deputies or Forest Service rangers acting as ski cops, and at that point skiing as we know it will no longer exist.

Skiing still remains one of the best ways to enjoy the mountains, but we all need to take responsibility for ourselves and our kids to make sure it stays that way. And the ski areas need to do much more than hold an annual skier safety week (Jan. 19-25) to show how serious they are about keeping things civilized on the slopes.


1 Comment on "Giving more than just lip service to skier safety week"