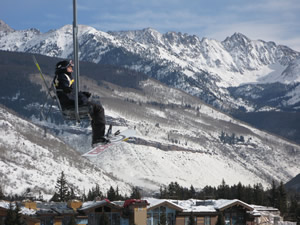 One of the first questions asked on a chairlift is always, "So, where you from?" The answer says a lot about who you are and where you're going in life - not just where you're headed on the hill.
By David O. Williams
What does it take to be dubbed a 'longtime local'?
What do you say when asked the inevitable chairlift question: 'So, where you from'?
By David O. Williams
February 21, 2008 — The question usually comes by about the second or third lift tower - superseded perhaps by an offhand, "So, how's it going today?" – but it's a query as inevitable as a safety bar in the back of the helmet.

It's the quintessential ski question because it says so much about one's lot in life, status in society and just how far you're willing or able to go to make turns at Vail or Beaver Creek. But that ultimate chairlift icebreaker always causes me pause: "So, where you from?"

"Here," was my stock response when I lived "down valley" in Edwards, mostly because our visitors make little distinction between our tiny towns.

Edwards maybe had 15 seconds of fame during the Kobe Bryant debacle a few years back, but even then, the "alleged incident" occurred in the gated enclave of Cordillera (hereafter jokingly dubbed Kobillera), which most folks in Edwards don't even consider part of their burg.

Certainly if you're elsewhere in the country or around the world you would never tell anyone you're from Edwards. Vail is the known quantity, and therefore a more logical locator.

This is particularly true overseas, where Italians I worked with during the 2006 Winter Olympics stared blankly at me if I said Edwards, Colo., but lit up with recognition if I said Vail, especially if I added, "near Aspen," which everyone recognizes as a sort of Hollywood East.

In fact, it's been suggested by some people "here," which is to say locally, that Vail annex all the surrounding towns of Edwards, Avon, Minturn, Red Cliff, Eagle and Gypsum, and that we become one big, happy valley. Certainly we'd lose a lot of juicy politics by going to one town board, but the resulting mega-town would still be small by most standards – around 40,000 souls.

But now I live in Vail anyway and can actually tell people so without fudging the geographic truth. So "here" has always seemed the safest response, and I try to deliver it without a hint of "I live here year-round, while you're spending your life savings to come here for two weeks" smugness.

After all, the person doing the asking may live year-round on Maui and could - having just jetted in on their Gulfstream – flippantly fire back with some "I never suffer 10-degree temps unless I want to" smugness.

But the other day when I answered "here," my son and his second-grade buddy started laughing at the image of us actually living on a chairlift (kids are so damned literal). It just seems as if we spend most of our waking hours on chairlifts discussing our points of origin with complete strangers.

My son and his buddies, though, are really the only true natives I know. Even my business partner, who was raised in Vail, wasn't actually born here. Vail babies used to be born in Denver or Glenwood Springs (or sometimes on Vail Pass) until we got a maternity ward in the '80s.

So be dubious of anyone over the age of 30 telling you they were "born and raised here," which would then make them the ultimate arbiter of all things Vail – the "longtime local."

What got me thinking about all of this is one of the greatest ski racers of all time, Lindsey Vonn (formerly Kildow), who grew up in Burnsville, Minn., and now lives with her new husband, Thomas Vonn, in a house they built near Park City, Utah.

The 23-year-old lived in Vail and trained with Ski Club Vail for five years before becoming a woman of the world (or more precisely, World Cup) by winning 12 such races, more than Picabo Street and second only to the legendary Tamara McKinney.

What's it say on Vonn's U.S. Ski Team bio under hometown? You guessed it … Vail. And if she wins a gold medal at the 2010 Olympics in Vancouver to become the first "Coloradan" to win an alpine medal, she'll forever be a native daughter no matter where she's from – even if she isn't a "longtime local."

This column by "longtime local" David O. Williams, who was born on Oahu (actually Honolulu) and raised in Washington D.C. (actually Arlington, Va.), Bitburg, Germany (actually the nearby town of Mötsch), and Denver (actually the Montclair neighborhood) before moving "here" in 1991, first ran in Vail Beaver Creek Magazine in the February, 2008, edition.






4 Comments on "What does it take to be dubbed a 'longtime local'?"