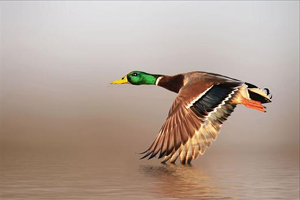 For this hunter, ducks make a worthy cause
Fundraiser set for April 19
By Tom Boyd
March 25, 2008 — There's a young couple across the street with whom I've become absolutely fascinated. They moved in a couple of winters ago – she's trim and healthy, and if I may say so, he's a fine specimen himself. They're fairly quiet and sometimes hard to see, but every time I lay eyes on them I'm filled with a tremendous gratitude that they've moved into our neighborhood.
They're ducks. Mallards, I think, and they spend all winter dipping their heads into the icy waters of Gore Creek like fussy diners at an all-you-can-eat buffet. They live, as many of my neighbors well know, on a cozy corner of the river adjacent to dog park in West Vail, where they withstand the rigors of winter with nary a care in the world except, of course, the occasional retriever who thinks he's out on a hunt.
The Ducks Unlimited Fundraiser
Saturday, April 19, 2008

Eagle County Fairgrounds Exhibit Hall

Doors Open at 5:30 PM

Dinner by Moe's BBQ

MC: Steve Leigh, DJ for KZYR 97.7 FM

Advance Tickets: $60 individual/$95 couple/$40 youth

At Door Tickets: $65 individual/$100 couple/$45 youth
My dogs are hunting dogs, as are all the dogs in my family, but none of them are wily enough to get anywhere near these wise old birds. A few paddles of their webby feet and these expert river-runners sally away to the next eddy, not even bothering to take wing or quack in warning, knowing that the dumb beasts who chase them are not worth even the slightest worry.


Anti-hunters have long harbored a belief that hunters are somehow against nature, contra to the peacefulness of the natural world. I suppose that on the surface it may seem that a hunter, who bags his game at the end of the day, is somehow stealing from the natural world. I tend to subscribe to the Aldo Leopold version of naturalism, where humans are thought of as a part of nature, not passive watchers who play no role in nature's game.


Anyone with eyes and ears should know the natural world is far from pacifistic. By integrating ourselves into this world, good hunters become very aware of nature's fine balance. There are those who are abusive, but the vast majority of us feel a very strong connection to nature – one which would be lessened should we lay down our arms.
Giving back to the natural habitat of the animals we love to hunt is the best way to show how well we love and understand the natural world.
Of the organizations which pursue this goal, Ducks Unlimited has long been among my favorite.
In Eagle County, Ducks Unlimited maintains retention ponds for wildlife in Gypsum – and they play a large role in caring for and watching over the health of our rivers, ponds, and streams.
They are holding a fundraiser April 19 at the Eagle County Fairgrounds (see break-out box), and I highly recommend attending and contributing to this fine organization.
The funny thing is, I don't even hunt ducks. I hunt grouse and pheasant, elk and quail, but that's hardly the point.
It's that beautiful couple across the street who I feel responsible for, and I want to make sure they always feel welcome in our neighborhood.

Comment on "For this hunter, ducks make a worthy cause" using the form below