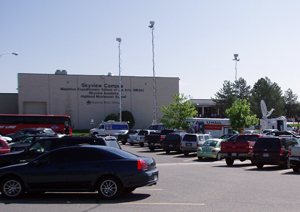 At this plain-looking high school in the Thornton area of Denver, Obama outlined one of the boldest education plans seen in decades – but the press was too busy to notice, looking backward two years ago to the propaganda wars of the Bush Administration.
Photo by Tom Boyd
McClellan book steals spotlight from Obama as education gets pushed to the background
By Tom Boyd
May 28, 2008 — THORNTON, Colo. — The Obama campaign has tried again and again to look forward, but America can't help but look backward.

On a day when Barack Obama tackled the ghost-issue of education at a town hall meeting in Denver, the mass media has turned its attention to something far more vicious, vitriolic, and in the long run, less important to America. Former White House press secretary, Scott McClellan, has released a book which is highly critical of the Bush Administration's actions during his nearly three-year tenure, and the news eclipsed Obama, Denver, and education in general.

Even as Denverites gathered May 28 in front of the Mapleton Expeditionary School for the Arts, which Obama is holding up as an example of hope in the nation's public school system, national radio and television had turned its eye to the news that a Bush traitor has defected, and is now calling the Iraq War a, "strategic blunder," and a, "Hail Mary pass for democracy."

As the media masticated events at least two years past, Obama chewed on the problems facing education's future. He lauded MESA for its historic accomplishments, as it became the first known Colorado public school to graduate 100 percent of its seniors and have 100 percent accepted into 4-year colleges or universities.

Obama pointed out that China is graduating eight times as many engineers as the United States, that by 12th grade our children score lower on math and science tests than most other children in the world, and that we now have one of the highest high-school drop-out rates of any industrialized nation in the world.

"Countries who out-educate us today will out-compete us tomorrow," he said.

In Colorado alone, Obama said, if the 16,000 students who dropped out of high school had finished instead, Colorado would see 4.1 billion of wages over these students lifetimes.

"That's the cost directly to this state's economy when we fail to educate our children."

Obama's education solutions were exemplified by MESA, he said, a public school with more than half of its students speaking bi-lingual, yet which has turned itself around in only a few years because it is a smaller school, has inspirational leadership and faculty, and has been bold in the use of new techniques to make high school more relevant to today's youth.

Questioned by a former teacher, he agreed that the Federal government's role in improving education largely one of leadership and inspiration, and that much of the work must be done on the local and state level. But he said his administration would modify and fully-fund No Child Left Behind, encourage dynamic curriculums, and financially reward schools which performed well not just on standardized tests, but along other metrics as well.

He also said that those who dedicated themselves to teaching would have their college educations paid for by the federal government.

This is not the first time that a candidate has addressed education issues, nor is it the first time that they have been largely ignored by the media in general.

I am not surprised, but that does not curb my disappointment.

Education, after all, is hardly a sexy topic. Like a lifelong investment in a blue-chip stock, an investment in education is paramount to any economic strategy, yet its rewards are slow in coming.

I can't help but think that today's big news story about McClellan, broken two years after his departure, is largely about how the public was fooled by the "propaganda" for an unjust war.

Like many, I wasn't fooled. From Powell's scare-tactics with anthrax at the U.N. to Bush's platitudinal speeches, I could see through it all the way.

And for that, I have my education to thank.


1 Comment on "McClellan book steals spotlight from Obama as education gets pushed to the background"