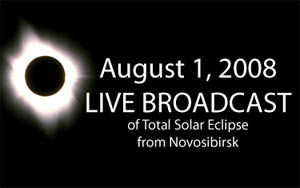 The website novosibirskguide.com will be broadcasting the eclipse live online this Friday, Aug. 1.

Prepare to be stood up by August 1 total solar eclipse
By Tom Boyd
July 28, 2008 — All this sun worshipping isn't getting me anywhere. I've been waiting for years to witness my first solar eclipse, yet I'm stood up time and time again like the proverbial scorned lover.

There is little in this universe more appealing to a cosmic sense of order than syzygy, yet to witness the total eclipse this coming Aug. 1 you'll have to be at a very, very high latitude (sorry to disappoint those of you grasping a bong in your basement, but Northern Lights will NOT get you high enough to be there).

Those of us in the United States will have some other options besides the schoolchild's paper with a pinhole, however. An English-language website called NovosibirskGuide.com will be webcasting the view of the eclipse from Novosibirksk, Russia.

If that's not geeky enough for you, a site called www.secondlife.com allows you to create your own online personality (or avatar) and walk into a virtual auditorium, where astronomers will answer audience questions as the eclipse is displayed on a virtual auditorium screen.

As for me, virtual isn't the same as the real thing, so yet another lonely Friday night will be spent without the company of corona or umbra.


Comment on "Prepare to be stood up by August 1 total solar eclipse " using the form below