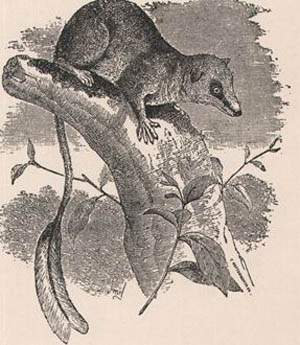 Behold the first-known wild drinker of the … ah, wild: the pen-tailed shrew of Malaysia.
Courtesy thefreedictionary.com
freedictionary.com
Boyd: 'Drunken shrew brings me one step closer to my dream of a beer-swilling monkey bar'
By Tom Boyd
July 18, 2008 — I have to admit that part of me is only writing this story so I could use the words "drunken shrew" and "beer-swilling monkey" in a headline. Now that this small dream has been realized, I'd like to dwell on another dream of mine – a dream in which my friend John Buckley and I open a bar on Bridge Street that features a monkey bartender.

Before P.E.T.A. members stake out my house and begin throwing tomatoes at me, my family, and the trophy antelope which hangs above the fireplace, just hear me out.

The drunken shrew portion of this article is pure scientific fact. Scientific American is reporting that the tiny pen-tailed tree shrew of Malaysia has as many as nine alcoholic beverages per night, imbibing fermented nectar from the bertam palm. The shrew joins other famous drinking animals, most notably a bear which passed out at the Baker Lake Resort in Washington State after binging on beer (Reuters) and six elephants in India which electrocuted themselves after pounding some home-made rice whisky and going on a rampage near some power lines (Associated Press).

Examples in literature abound, as well. In the famous Aubrey/Maturin series by Patrick O'Brien (made famous by the movie "Master and Commander, Far Side of the World," starring Russell Crowe), an orangutan comes to a pitiful end after joining the crew on board, stealing their grog, and drinking its liver into oblivion while hanging from the rigging. The elephant in the book "Water for Elephants," develops a taste for whiskey, and circus history in general suggests that domesticated animals can easily be weaned to beer, whiskey, and many other human-made toxic brews.

Domesticated animals are one thing, but the shrew provides the first real scientific evidence of an animal – besides humans, of course — which finds fermented fruit in the wild and willingly partakes.

So I'm beginning to think: perhaps this fictional bar of mine on Bridge Street could feature a happy little shrew which, when trained properly, could crack Budweisers for all the friendly customers. A shrew may not be a monkey, but with a monkey we'd have the guilt of having manufactured our beasty little drinker, whereas with the shrew, at least we'll know the little thing has a purely natural love of the good stuff.

One can dream, can he not?


Comment on "Boyd: 'Drunken shrew brings me one step closer to my dream of a beer-swilling monkey bar'" using the form below